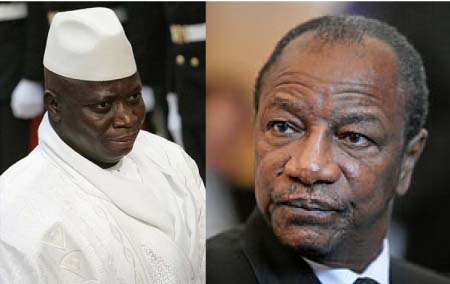 The Gambian government has expressed regret at what it called the "bizarre" attitude of the Government of Guinea Conakry in failing to acknowledge receipt through diplomatic channels of the sum of US$500,000 it remitted to that sister West African country in September this year to help it contain the Ebola epidemic.
Whereas the highest authorities of Sierra Leone, another sister country that received the same timely gesture of African solidarity by President Yahya Jammeh, have acknowledged receipt of the funds with gratitude, the Guinean government is yet to do so.
A statement by the Gambia government on the "unfortunate" situation read on State TV last night states:
His Excellency the President of the Republic of The Gambia Sheikh Professor Alhaji Dr Yahya A.J.J. Jammeh, issued in early September 2014, a directive that the sum of US$500,000 be remitted to the Government of the Republic of Guineain support of its effort to contain the Ebola epidemic in that country.
The funds were transferred to an account provided by the Central Bank of Guinea, which has since acknowledged receipt of this amount with gratitude, although the Government of Guinea is yet to acknowledge receipt through regular diplomatic channels.
This bizarre attitude on the side of the Government of Guinea Conakry is unfortunate and regrettable.
It could be recalled that this timely gesture of African solidarity by His Excellency the President was also extended to the Government of Sierra Leone, the receipt of which was acknowledged with gratitude by the highest Sierra Leonean authorities.
Read Other Articles In Article (Archive)