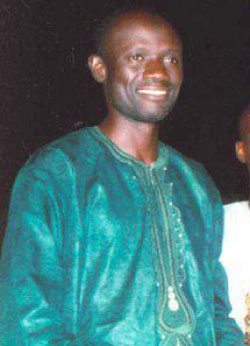 The Minister of Youth and Sports, Mr. Alieu K. Jammeh on Saturday visited Epuuk Bakassouck, a youth group based in Darsilameh village, Kombo South District, West Coast Region.
The youth association was formed seven years ago and its members involved in local soap processing, body butter making, tree planting, honey production among others.
Speaking to youth group members, Minister Jammeh noted that the youth of Darsilameh are role models for many youth organisations in The Gambia. Skill development is the way forward for youth development, he told his audience.
Minister Jammeh told the youth that the government cannot employ every youth or individual in the country, but youths venturing into skill training will reduce the burden of unemployment and increase self-employment opportunities.
According to him, such ventures will help them contribute to the socio-economic development of the country.
The Ministry of Youth and Sports has youth friendly policies and programmes that are aimed at promoting the welfare of youths and their development, says Minister Jammeh.
"With the introduction of NYSS, NEDI, NYC, and PIA among others, these are all here to help youths in their development drive," he said.
He challenged the youth to be development-oriented and play a lead role in Gambia's development since as he put it no one would come from abroad to develop the country for her people.
He also challenged them to take up agriculture, which he said is the backbone of the country's economy.
In order for us to be independent; we must be able to feed ourselves as country, he said.
He concluded by assuring the youth of Darsilameh of his ministry's support and encouraged them to keep up the good work.
The chairperson of National Youth Council, Mr. Fabakary Kalleh, challenged the youths to stand for the development of the country and object to anything that will bring confusion into their minds.
Gilbert Jassey, President of Epuuk Bakassouck Association, said his association was established with the aim of serving as an income-generating youth association which will help school dropouts to become responsible people through skills trainings.
"As a youth association we want to be the agents of change in the lives of other youths around the country. We trained a number of young women in Basse, Upper River Region and Lower River Region of the country," he said.
"All of the things we are doing as an association we do it on our own. We are seriously appealing for support from the government and all other institutions that can help us," he said.
He also noted the lack of a market for their products being a major problem they are facing as a group.
Read Other Articles In Article (Archive)