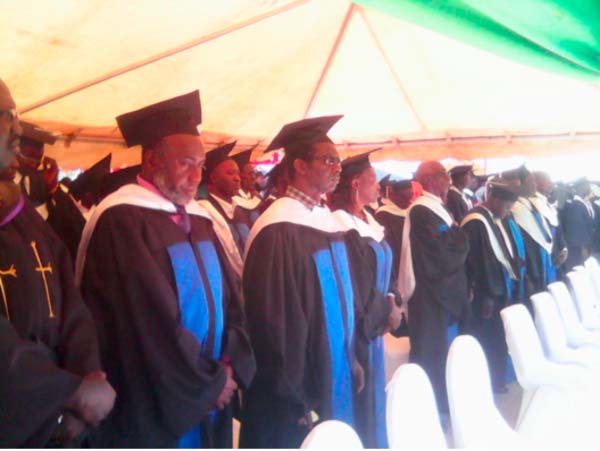 The Gambia College has conferred awards to its 2014/2015 finalists at a colourful graduation ceremony held at the Brikama campus on Saturday.
Over four thousands graduands from the schools of Agriculture, Education, Nursing and Midwifery, and Public Health received accolades on their various fields of study.
One hundred and twenty-five awards went to the Agricultural extension workers on Higher Diploma in Agriculture (HDA), Certificate in General Agriculture (CGA) and Certificate in Animal Health and Production.
Three thousand, eight hundred and fifty-six educationists commonly called teachers, received awards ranging from Higher Teacher Certificate (HTC) on Primary and Secondary schools, to Primary Teacher Certificate (PTC) on English and Islamic language, and Early Childhood Development (ECD).
One hundred and thirty-five nurses received their awards on Registered Nursing from the college campus in Banjul.
Fifty-three Public Health workers received awards on Higher National Diploma (HND) on Public and Environmental Health.
The principal of the Gambia College, Aboubacarr Jallow, said the four schools of the college continue to contribute to the human resource development of the nation, referring to the graduating students as a symbol of pride.
Despite challenges, Mr Jallow stated, The Gambia's premier tertiary institution has been able to sail through the production of large number of graduands to take up their rightful responsibilities in every sector of development.
The guest speaker on the occasion, Dr Cherno Omar Barry, permanent secretary at the Ministry of Higher Education, Research, Science and Technology (MoHERST), said college students stand "indissoluble and indispensable as a quintessential pillar" of the social-economic growth and development of The Gambia.
Despite the challenges, he emphasised, the college "had the exceptional good fortune of being made responsible for molding our young minds for development, for providing the essential experts in social service delivery indispensable to the development of The Gambia".
Dr Barry reminded the graduands of the task ahead of them, bearing in mind that teachers mold students, nurses give care, public health workers guide towards healthy environment and food, and agricultural workers support in livelihood ventures.
The Chairman of the Gambia College Governing Council, Ebrahim Tas Dondeh, said the role of the college to let "education continue to be the most significant game changer in the fight against poverty and underdevelopment" in the world is still a reality.
In the same vein, according to him, the dream of establishing the University of The Gambia was inspired by the role that the Gambia College could play in supporting and enhancing the work of the university.
He also spoke on the need for the University of The Gambia to accept transfer of credit from the college for students willing to pursue further education.
"The college must be encouraged to explore and discover, to experiment and to develop ideas in pursuit of training and academic excellence," he said.
Read Other Articles In Article (Archive)