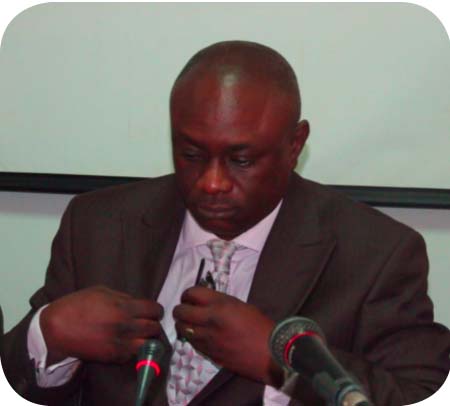 The International Monetary Fund (IMF) and AFRITAC West (2), in collaboration with the Central Bank of The Gambia, Monday commenced a five-day regional seminar on Basel Core Principle Assessment training at the Ocean Bay Hotel in Bakau.
Hosted by the Central Bank of The Gambia, the regional training - the first of if its kind to be held in The Gambia organised by IMF and AFRITAC WEST 2 - brought participants from various countries in the sub-region.
In his opening statement, the deputy governor of the Central Bank of The Gambia, Basirou Njie, thanked AFRITAC West 2 for organising the regional seminar in The Gambia and for their excellent work in providing technical advice and technical assistance on macroeconomic and financial management for English-speaking countries in West Africa.
He said the training activity was aimed at building capacity on Basel core principles assessment, adding that it was in 1997 that the Basel Committee on banking supervision issued the widely accepted comprehensive set of core principles as a useful mechanism for strengthening financial stability, domestically and internationally.
According to Mr Njie, the Basel committee had made it abundantly clear at the time that the principles are minimum requirements, and in many cases may need to be supplemented by other measures to address particular conditions and risks in the financial systems of individual countries.
Subsequently, he added, the committee reviewed the 25 core principles and their recommendations were endorsed at the 17th international conference of banking supervisors held in Istanbul, Turkey in September 2012.
He said the 25 core principles were expanded to a new set of 29 core principles categorised as follows: supervisory power, responsibilities and functions and prudential regulations and requirements.
"It is the determined policy of the Central Bank of The Gambia to promote greater resilience of the banking system in The Gambia, and to make sure that banks have robust risk management frameworks with adequate liquidity buffers to withstand prolonged periods of stress," he said.
Njie added that the last Basel core principles assessment in The Gambia was conducted in 2014 under the First Initiative in collaboration with the West African Monetary Institute (WAMI).
The Gambia was rated materially non-compliant in one of the principles, compliant in fifteen principles, partially compliant in ten principles and four principles were deemed not applicable, he stated.
"We look forward to another assessment as soon as possible, convinced that our rating would improve significantly," he said.
He entreated the participants to freely interact with the facilitators in order to derive maximum benefit from the course.
Read Other Articles In Article (Archive)