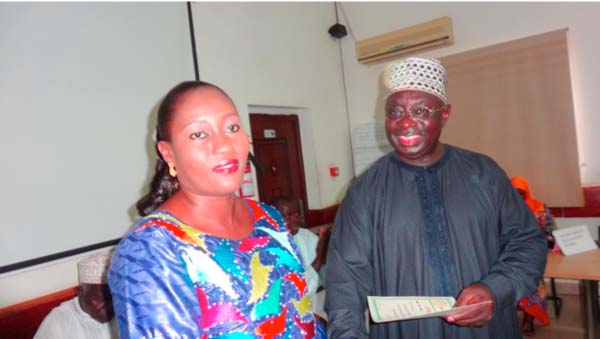 The Pharmacy Council of The Gambia over the weekend certified two hundred and four pharmacy practitioners in the country, after having satisfied the requirement for registration as pharmacist, in accordance with the Pharmacy Act 2014.
The certificates were presented to the practitioners, paving the way for them to practise their profession without hindrance, with effect from 5 March 2016, at a ceremony held at the CIAM conference hall in Kanifing.
The certificates were in four categories namely, pharmacist, pharmacy technician, nurse dispenser, and dispensing assistant.
Thirteen were certified as pharmacy practitioners, twenty-six as pharmacy technicians, ninety-nine as nurse dispensers, and sixty-six as dispensing assistant.
Speaking at the presentation ceremony, the chairman of the Pharmacy Council of The Gambia, Momodou K. Cham, explained briefly the functions of the pharmacy council.
He said one of the functions is to certify practitioners, cancel, suspend such certificates in accordance with the Act, as well as to enforce practice standards, conduct, and discipline among registered persons.
He further said the next milestone of the pharmacy council is to issue premises licences by 9 April 2016.
According to him, in collaboration with the directorate of Pharmaceutical Services, they would support the training of pharmacy technicians and dispensing assistants from June 2016.
The council would also use funds realised from the registration of pharmacists and pharmacy support personnel to support the training of at least 35 pharmacy technicians and 35 dispensing assistants, he added.
Mr Cham said the pharmacy council also plans to use some of the funds from personnel registration to support its work with the National Aids Secretariat to address gaps in ARV treatment adherence, a major contributor to treatment failure and deaths of PLHIVs on ART.
The aim of the Pharmacy Act is to promote and protect the health and safety of the general public through safeguarding, maintaining and enforcing the highest standards in the practice of pharmacy and for connected matters therein, he said.
Mr Cham further read the code of ethics for pharmacists, saying "a pharmacist recognises the health and wellbeing of the consumer as their first priority, and also pharmacist will utilize expert knowledge and provide care in a compensated and professional manner."
He said that according to section 9 of registration of pharmacists and pharmacy personnel, a person shall not practise as a pharmacist or pharmacy support staff unless he or she is registered in accordance with the Act. 
He said a person seeking registration shall apply to the registrar in the manner determined by the council, and the registration is valid for the period determined by the council.
Mr Cham also said a person shall not be registered to practise as a pharmacist in The Gambia, unless he or she holds a degree in pharmacy from an accredited training institution recognised by the council, and provides evidence of completion of an internship programme undertaken in an accredited national training institution recognised by the council, after academic           training.
Read Other Articles In Article (Archive)