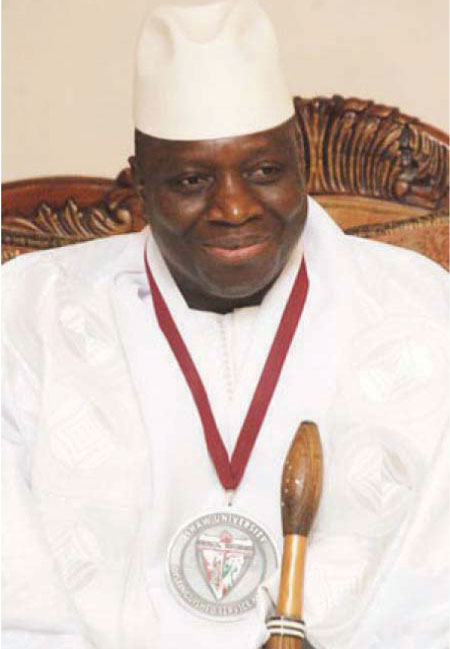 The Gambia is bidding for the 14th summit of the Organisation of Islamic Cooperation (OIC) slated for 2019, reported GRTS on Friday after President Yahya Jammeh returned to Banjul from Cairo, Egypt, where he attended the 12th summit of the OIC.
The application was made by President Yahya Jammeh on Thursday while addressing leaders attending the summit in Cairo, reports stated.
According to the news report, the Gambian leader, who assured delegates of a successful gathering should Gambia be awarded the opportunity, also drew the attention of member states to the plight of the Muslim Ummah.
Leaders of the Muslim world were meeting in Cairo under the theme: "The Muslim world, new challenges and expanding opportunities".
The Organisation of Islamic Cooperation is an international organisation consisting of 57 member states.
The organisation is seen as the collective voice of the Muslim world that works to safeguard the interests and ensure the progress and well-being of its member countries in an atmosphere of international peace.
Speaking to journalists shortly after his return at Banjul International Airport, President Jammeh said The Gambia should have hosted the OIC summit since 2003 because "from Doha it was supposed to be Gambia, and that was why I was made vice chairman of the OIC in preparation for being chairman."
"But what happened was that the former prime minister of Malaysia, Mahathir was a true friend of Africa and he has always stood for African liberation and he requested that he be given a chance because he was going to retire after that. His wish was to host the OIC before leaving office," Jammeh told waiting reporters on arrival.
According to him, during the transition, when they had a lot of difficulties with the Commonwealth and other countries, Mahathir stood for us; so he cannot request for something as simple as that and I tell him No, because it was going to be a big embarrassment for him.
"So I decided to let him have it. From Malaysia it was supposed to be for The Gambia, but our neighbours went on the rampage on an outrageous campaign saying that Gambia has no airport, we have no electricity and we have no roads. There were a lot of lies about The Gambia and in Malaysia everybody was surprised when they mentioned that Gambia and Senegal were the candidates and I raised my hand and said let Senegal have it, and that's how they got it," he told reporters.
Read Other Articles In Article (Archive)