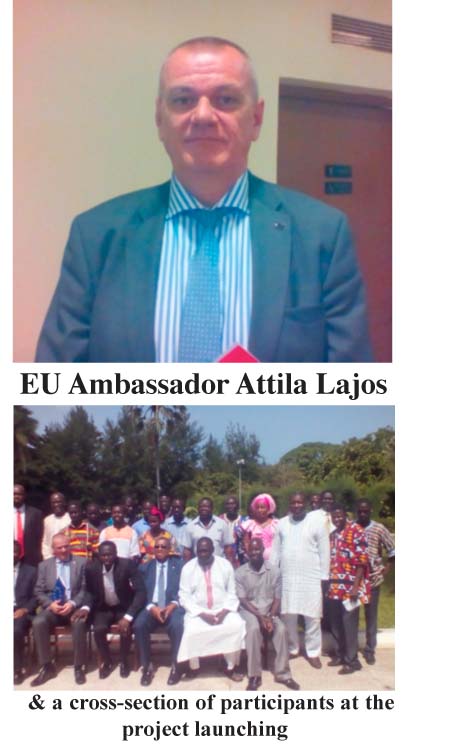 A D35 million project for journalism and media technical capacity building in The Gambia was launched on Wednesday at a hotel in Kololi.

The project funded by the European Union would be implemented by the United Nations Education, Scientific and Cultural Organisation, UNESCO.
It was designed to build the capacity of media for a period of four months.
Speaking at the launching ceremony, EU Ambassador to The Gambia Attila Lajos said the objective of the project is to contribute to better democratic governance through improving freedom of the press and the quality of information available.
He said the project promotes excellence and innovation in journalism, through supporting journalism education as part of efforts to develop a free and independent media.
"The project also reinforces gender equality in the media through the selection of target groups for the training activities and the development of training curricula and materials," the EU diplomat said.
EU's support of the project is premised on the fact that the media is also a driver to economic growth.
"Investors look to establish themselves in countries where there is a free media so they have unhindered, reliable and credible sources of information, which in turn allow them to make informed decisions," Ambassador Lajos said.
"The media has a vital role to play in promoting transparency and accountability whether it is scrutiny of the performance of the government, unearthing corruption or reporting crimes. The media has to be able to cover these important issues in an open and balanced way."
Jean-Pierre Ilboudo, UNESCO representative to Namibia, said there is a need to set up a framework of consultations between the government and media bodies to exchange and discuss on issues of common interest, for both parties to contribute to the economic and social development of the country.
Minister of Information Sheriff Bojang claimed that The Gambia government provides an enabling environment for journalists, adding that there is a need for dialogue between the media houses and the government in order to achieve the desired goal.
According to him, there is freedom of the press and expression in The Gambia, looking at the establishment of the newspapers and radio stations in recent years.
The minister of Higher Education, Dr Ababucarr Senghore, said the project is important for it would enhance professional and ethical journalism in the country.
WHO representative to The Gambia, Dr Charles Sagoe-Moses, said the successfully implementation of the project would contribute to the 2030 development agenda goal number 16: to promote peaceful and inclusive societies for sustainable development, provide access to justice for all and build effective, accountable and inclusive institutions at all levels.
Read Other Articles In Article (Archive)