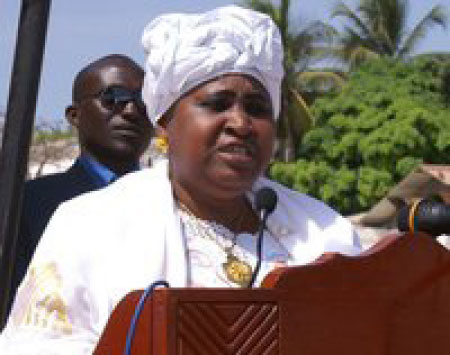 The Gambia has received the 2015 African Leaders Malaria Alliance Award (ALMA), for excellence in implementation of vector control.
A statement read over the state television, GRTS, over the weekend, has it that the country's award was received by the Vice President and Minister of Women's Affairs, Isatou Njie-Saidy, on behalf of President Yahya Jammeh, at the recently concluded 24th Ordinary Session of the African Union held in Addis Ababa, Ethiopia.
The Gambia is awarded for maintaining at least 95 per cent coverage of vector control, long lasting insecticide nets and residual-spray.
The statement from State House in Banjul said the in-door residual-spraying component of the vector control programme in The Gambia is sponsored by President Jammeh.
It also added that the monthly environmental cleansing exercise known as set settal, instituted by the Gambian leader, has proven to be an effective vector strategy.
As a result of these measures, malaria cases in The Gambia has reduced by 38 per cent within a 5-year period, from a total of 508,846 episodes of clinical malaria reported in the year 2008 to 273,507 in 2013.
Apart from The Gambia, seven other countries have received the ALMA namely, Burundi, Burkina Faso, Central African Republic, Guinea, Chad, Guinea Bissau, and the Comoros Island.
All the awarded countries were chosen by an independent selection committee representing the WHO, Roll-back Malaria, the private sector, civil society and academia.
The selection was said to be based upon each country's quarterly malaria report and on data collected by Roll-back Malaria partners and reflected in the ALMA's scorecard for accountability and action.
In presenting the awards, the Secretary General of the United Nations Ban Ki-moon, and the chairperson of the African Union Commission, Dr Nkosazana lamini Zuma, commended the countries for their significant contributions in the fight against malaria and promoting accountability and action in maternal and child health.
In Africa, generally, malaria mortality has reduced by 54 per cent since the year 2000, as a result of a significant scaling up of malaria control interventions in Africa.
An estimated 3.9 million child deaths is said to have been averted in the continent.
Read Other Articles In Article (Archive)