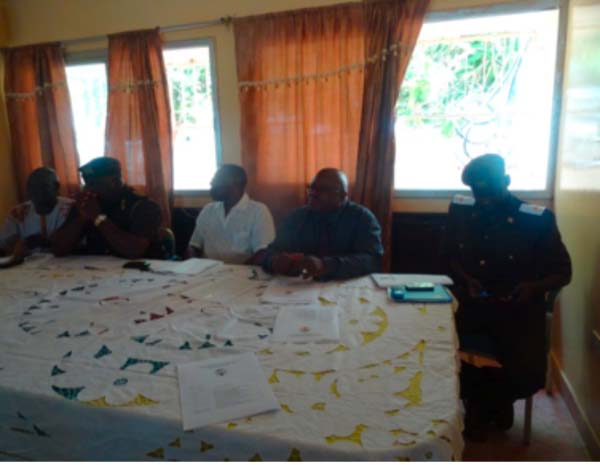 Gambia Food and Nutrition Association (GAFNA) on Thursday held at its head office a press briefing on comprehensive support and start-up kits for vulnerable Senegalese refugees in the Foni area of The Gambia.
Funded by UNCHR, the programme benefited 15 refugees - 11 men and 4 women - who received a cheque for D20,000 to contribute to their livelihood.
Dr Reuben Mboge, chairman of GAFNA Board of Directors, said the presentation would benefit up to 25 people in the area.
He added that two years ago they organised the same support for the refugees.
According to Dr Mboge the other group of people to benefit from their support "will be the people who have skills like tailoring, tiling, and masonry".
The UNHCR would continue to render help to refugees, as it is their role to do so, he said, adding that would also continue to make sure the money given out is used for the refugees.
Commissioner Jammeh Ceesay who advised them to put the money into good use, said: "We are not going to tell you how to use the money but we urge you to use it intelligently. Money is never enough."
The conflicts in the Southern region of Senegal (Cassamance) have led to a mass influx of 10,500 refugees into The Gambia.
Majority of these refugees arrived in 2006 whilst others arrived in 2011 and 2012.
These rural-based refugees are mainly farmers who are confronted with challenges such as low and erratic rainfall patterns and poor soil fertility, thus posing constraints on their livelihoods.
A statement by GAFNA said further: "In an effort to support these refugees to sustain their livelihoods and become self-reliant at household level, GAFNA being an implementing partner with funding from UNHCR has adopted a strategy that is geared towards supporting these refugees to undertake business activities through the provision of comprehensive support and for enhancing self-employment and through the provision of start-up kits to selected refugees.
"During the past two years, urban-based refugees who are mainly from THE Democratic Republic of Congo, Ivory Coast, Liberia and some Senegalese have benefitted from these interventions."
The programme was chaired by GAFNA's Executive Secretary Yusufa J. Gomez.
Read Other Articles In Article (Archive)