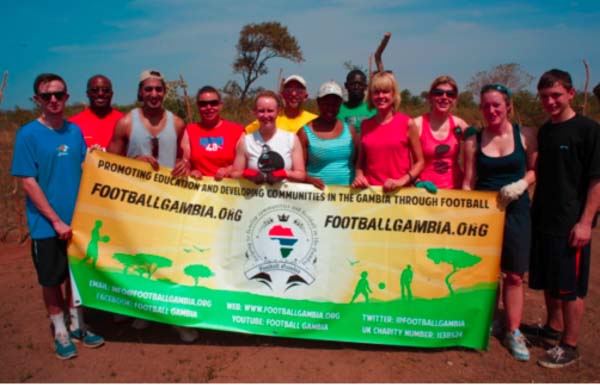 A UK charitable organisation, Football Gambia, recently donated learning and teaching materials worth more than D200,000 to 14 schools in the Upper Nuimi district of the North Bank Region.
The founder of Football Gambia, Ian Stapleton, who goes by the Gambian name Mansa Wally, presented the materials which mainly consist of books and chairs to Pa Modou Sillah, the cluster monitor of Albreda Cluster at a ceremony held at Sittanunku Basic Cycle School in Sittanunku village in Upper Niumi.
The beneficiary schools included Sittanunku Nursery, Basic Cycle and Senior Secondary schools; Nuimi Lamin Primary School; Albreda Nursery, Basic Cycle and Senior Secondary schools; Kerr Cherno Nursery, Basic Cycle and Secondary schools; Kerr Demda Lower Basic School; Sika Lower Basic School; Sami Kuta Lower Basic School; Sami Tenda Lowe Basic School; and Bafuloto Lower Basic School.
Football materials
The UK charity, also known as Friends of Sittanunku, further donated jerseys, footballs and goal nets to Mansa Wally Football Academy in Sittanunku village.
The football materials were received by Lamin Sillah and Sheriffo Jammeh, secretary and chairman respectively of the football academy, which was set up by Football Gambia.
Football Gambia works with communities, schools, football clubs and academies in The Gambia to promote education through football.It helps children and youths attend school and live a healthy lifestyle.
Officials of the organisation said the main goal of Football Gambia is to develop communities to be more sustainable, and to ensure that children and young people in The Gambia get the highest quality life experiences before they reach adulthood.
The organisation does this through the provision of educational materials to school children to enhance their education, and quality football equipment.
The UK charity also encourages Farming Academy, where members of youth football clubs will cultivate land to produce vegetables and fruit for their communities.
Read Other Articles In Article (Archive)