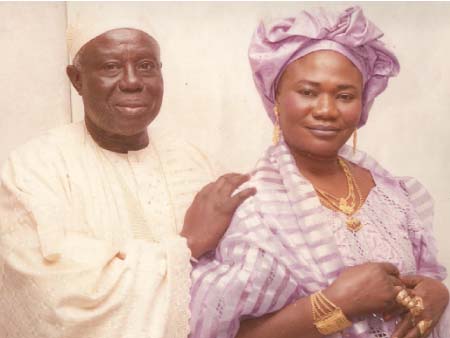 Alhaji Abdoulie Omar Sosseh (commonly called Gabi Sosseh) and Aja Njaimeh Jaye Sosseh yesterday, Sunday, celebrated their 50th year of marriage.
In an exclusive interview with The Point newspaper at his compound at Primet Street in Banjul, Gabi Sosseh thanked Allah for their marriage and for the children bestowed on them.
He said the secret to the success of their marriage for half-a-century is "understanding and respect for each other".
Gabi Sosseh said if any marriage is to last, the husband and wife have to understand the likes and dislikes, the ups and downs of the other partner, and respect each other's feelings and decisions.
Mr Sosseh gave a synopsis of how their marriage happened: "In 1960, my elder brother, Bai Sosseh, was getting married to a girl called Adama Njie at 15 Anglesea Street, Banjul. My mother was at the marriage ceremony where Njaimeh, who later became my wife, brought her water.
"While my mother was drinking, Njaimeh kneeled down as a way of showing respect to her. When my mother came back from the ceremony, she told me to go to 15 Anglesea Street, saying 'there is a good girl there called Njaimeh; she could be a good wife to you'. By then, Njaimeh was 18 years old.
"When I came back, my mother asked whether I saw the girl; I said 'yes' but I later told her that I was not ready to get married. However, my parents went ahead to marry Njaimeh for me. After the nott was tied already, they told me 'congratulations, you have a wife'. As I was wondering who this girl was they have married for me, they told me it is the girl I went to see at Anglesea Street.
"So it was like that in those days. Thank God, 50 years now, our marriage is going on because I followed the advice of my parents. Allah has blessed us with children – both male and female.
"One of the children has Master's degree in law; he is a lawyer in America. Another one has a PhD in engineering in America. We have a son in England, and a daughter in America who did computer science. We also have a daughter who has a Master's degree and she is working with the Gambia government. All these are blessings from Allah that came from our marriage. I thanked Allah for the blessings.
"I have never divorced my wife because children from divorced families always suffer. For instance, when you divorce your wife and she gets married to another man, she will take your children to that man's house and your children will suffer in that compound."
Gabi Sosseh reiterated that young people who want to get married should "please try" to put their parents in the picture. Parents have wisdom and experience in knowing who could be a good partner, and following their advice could lead to longevity of the marriage.
"Instead of leaving the parents to take the lead, nowadays, people just meet in streets or at ceremonies and decide to get married, which is not the right way.
"During our time, our parents go through the rudiments of investigating where our wives come from. They try to know the family of the girl to find out whether that family is a family to choose a wife from."
He said: "The second advice I have for the young men and women in marriage is that each of them, as husband and wife, should always accept it when they are wrong. They should be ready to apologise to each other."
Gabi also has a word for the parents: "They should not be proud not to listen to their children, because sometimes the children have ideas."
Mr Sosseh also explained how he got the name Gaby: "It originated when he was about 8 years old in Primet Street, where we used to play football with colleagues.
"One of my elder brothers and friend, the late Alhaji Babou Sowe, gave me the name "Gabi". Gabi was the name of an old Aku man living at the Sawyer's house, and Babou thought I was as free as that old man; so he called me Gabi."
Read Other Articles In Article (Archive)