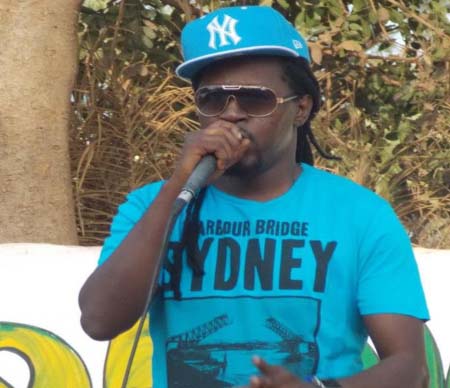 As part of taking music to higher heights, Fafadi, a Senegalese Afro-Manding reggae artiste, is busy putting finishing touches to releasing his third album entitled "My Hero" dedicated to President Yahya Jammeh.
When released, Fafadi says, "My Hero" would make resounding impact and waves as it will forever continue to touch the hearts and souls of all those who listen to it.
Speaking in an interview with Entertainment and Lifestyle recently, Fafadi said the album contained 12- sound tracks with a DVD and will feature some of the finest stars both in and outside The Gambia.
The album, he discloses, will be recorded in The Gambia, Jamaica, England, Canada, France, and the United States, to make it a big hit.
"Thus, there is the need for all to embrace peace and unity so as to make Africa a better place and I want to make this album a big hit because the Gambian leader is dedicated to the development of Africa," the Senegambia star says.
"It's time for us Africans to be the drivers of our own development."
The young Fafadi also relates: "My aim is to contribute immensely to the development of The Gambia's music industry as the country is well blessed with young talented musicians who can make it to the highest level when given the necessary support and encouragement."
Fafadi commends President Jammeh for his ceaseless extraordinary efforts towards the progress and development of Gambian music in general.
The Gambia has a lot of talents, he acknowledges, calling on promoters to support artistes for the development of the country.
Read Other Articles In Article (Archive)