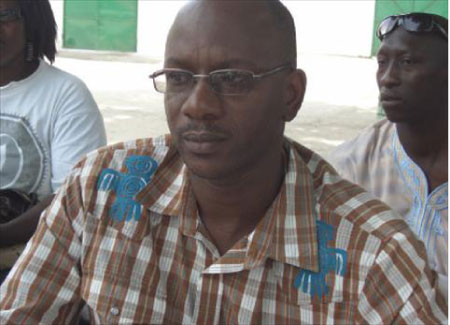 The Gambia Basket Ball Association (GBA) will today begin its selection for the Zone II tournament training for the all star games and the 3 on 3 tournaments at the Independent Stadium in Bakau, at 5:30 PM, according to the association.
The GBA stated that a final selection of 4 players would be done by the coach in collaboration with the executive.
The selection for the Zone II 3 on 3 in Mali include Mohammed Kebbeh of Serrekunda West, Pa Cherno Bah of YMCA, Abdoulie Jarju of YMCA, Alasan Mbowe (Yankee) of Brikama, Mohammed Njie of Brikama, Denis Demba of Serrekunda West and coachFoday Singhateh assisted by Tollo, the statement added.
It stated that the 2015 Zone II 3 on 3 selection basketball will be held on 14 and 15 November this year in Mali, with registration deadline for clubs slated for 30 November.The GBA league finals will be played on 28 November 2015.
The selection categories are as follows:
Men All Star Selection
Team Explore                                        Team Achieve
Abdoulie Gaye- Old School                            Denise Demba- SK West
Kassim Konneh- Banjul                                 Nagiru Daffeh- GAF
Abdoulie Jarju- YMCA                                    Halifa Faal- Brikama
Assan Jarsey- Banjul                                Abdou Faye- SK West
Essay Gaye- Manjai                                       Georeffy Bala Gaye- Old School
Njogu Njie- GAF                                    Omar Savage- YMCA
Alasan Mbowe (Yankee)- Brikama             Kalifa Bojang- Old School
Mohammed Kebbeh- SK West                         Momodou Lamin Sonko (Jordan)- SK East
Muhammed Trawally – YMCASanna Fatty- SK EastSanna Fatty- SK East
Abdoulie Wanna(Uche)- YMCA                                   Pa Cherno Bah- YMCA
Alieu Nyan- SK West                            Muhammed Njie- Brikama
Issa Ndoye- Banjul                                           Ousman Faal (boga)–SK West
Coach : Abdoulie Gaye – SK WestCoach: Foday Singhateh – YMCA
Female All Star Selection
Haddy Touray – YMCA                        Jama Gai - Banjul
Fanta Sall – GAFAwa Jawara- YMCA
Yama Ceesay - Late babou SoweFatima Sidibeh - SK West
Yassin Mboob – YMCA                        Adam Touray - YMCA
Awa fofana – Kotu                        Oumie Minteh - SK West
Mammy Touray -SK WestSally Kuyateh - YMCA
Nyima Jammeh -Kotu                        Mariyama Ceesay - GAF
Naiasha Jaiteh – YMCA            Yama Mbye - Kotu
Astel Njie -Late Babou SoweAlasan Senghore - GAF
Tida fatty – YMCA                       Ida Cham - Late Babou Sowe
Tida Ceesay – GAF                        Mai Jammeh - Late Babou Sowe
Coach: Abdoulie Badgie (Doks)Coach: Mbye Badgie
Read Other Articles In Article (Archive)