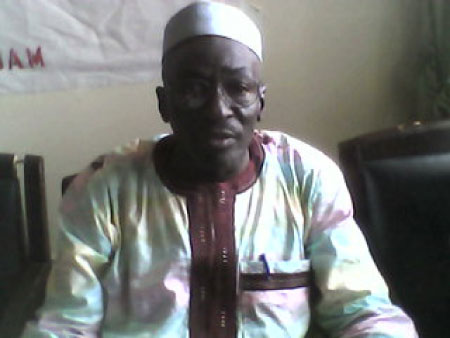 Alhajie Dodou Capi Joof, newly elected president of the Gambia Athletics Association at the association's weekend congress took delivery of its activity report during his four-year spell as the secretary general.
Capi, as he is widely called, in his report highlighted the achievements registered by the association in the past couple of years.
Below we reproduce the full text of the report by Alhajie Dodou Joof:
I know by now all of you must have gone through the report that was submitted to you, in order to save time. I will summarize my report as follows. After the 2006 election, the executive  bureau decided to identify four main areas of development putting emphasis on development of our human resource, grassroot and material resources. The following areas were identified:
1.    Development of administration 2. Technicians and coaches 3. Grassroots (school sports) and Elite athletes 4. Material resources
We have made significant development by sending our administrators, technicians and coaches to universities, colleges and high performance centers in Europe and Africa. Fourteen (14) Administrators, coaches and technicians benefited from the programmes. 
Our elite athletes have also benefited by attending high performance training, on middle and long distance/ sprints and relay  at the IAAF high performance centers in Kenya, Dakar and Kingston Jamaica.
COURSES AND SEMINARS
In 2007 Musa Manneh of the KMC attended seminar on Competition Management at the RDC Kenya. Mr Adama Mbye also attended seminar on Race Walking at RDC in Kenya. In 2008 Modou Njie attended coaching course for sport education in Hungary. Abdoulie Kah attended lecturer course level II at the University of South Africa. Alieu Cham attended Coaching Development Director Course at RDC in Nairobi Kenya. Abdoukarim Sey and Lamin .S. Jawara of the Ministry of Basic/Secondary Education attended Kids Athletic level I training course in Senegal at the RDC Dakar. Mr Sulayman Jobe attended Sprints and Relay level III course at the RDC in Nairobi, Kenya and the University Minz F.R.G. Sarjo Jawara also attended level III course for middle distance at R.D.C in Nairobi Kenya.
In 2010 Mr Abdoukarim Sey attended Youth School performance level II lecturer course at R.D.C in Nairobi Kenya. John Kwokori attended Academic coaching course for youth chief coach and level II high jump course at the R.D.C in Kenya. Mam Kewe Ceesay attended athletics coaching course at Lipzip F.R.G.
In 2011 Mr Mustapha Gibba attended Seminar on Electronic Timing at the RDC in Nairobi, Kenya. Mr Babun Fatty attended lecturer course level II for Kids Athletic Instructor at R.D.C in Kenya. From 3rd – 4th Oct 2011, Aja Amira Ghanim Jagne attended seminar for Secretary General on Strategy Planning and Development at the RDC in Nairobi, Kenya.
ATTACHMENT
Three Cuban coaches have been attached to the GAA, on technical assistant for track and field. Two German experts friends of the GAA since 1988 - Mr Walter Abmyr, Professor at the University of Heidelberg, and Kunta Langa - German technical expert, visited The Gambia under the German Olympic Committee and GNOC to organize Sport Fitness Training and to advise the Ministry of Youths and Sports on the development of sports in The Gambia on attachment for 2 weeks.
NOMINATION AND AWARD
This has already been dealt with in the president's report.
INTERSRUCTURAL DEVELOPMENT
In order to supplement Government efforts, the GAA has initiated the refurbishment of the Independence Stadium track through the assistance of Mr Lamin Diack, President of the IAAF, USD360, 000 was raised from the IAAF/IAAF foundation and the I.O.C. The project is expected to kick start in January 2012.
MATERIALS AND EQUIPMENT
During the period under review, the GAA was able to receive Athletic Materials and Equipment's from Norway, Germany and Individual sponsors through the negotiation of the secretariat. 30 Track Suits, 30 Vest/Sing lets, 10 Starting Blocks, 12 Jogging Shoes, 12 Running Spikes (Sprints, Middle Distance and Jumping), 12 Hand Timing Watches, 1 Electronic Timing Equipment, 12 Javelins, 6 Shot puts, 2 High Jump Stands, 4 High Jump Bars, 8 Relay Batons, 6 Medicine Balls, 2 Fitness Boxes, and 3 100m Measuring Tapes).
RESULT OF INTERNATIONAL COMPETITIONS
Gold            Silver      Bronze          Total


2008/9 ZONE II CADET MALI/SIERRA LEONE                                                          
18                10                11              39


2007/8 SOLIDARITY (SENIOR) ZONE II. GUINEA BISSAU                                     
24                11                10              45


2008/10 WEST AFRICA JUNIOR TOGO/NIGERIA                                                      
6                  3                   -                 9


2010/11 CONTINENTAL (AFRICA) CADET CHAMPIONSHIP MOROCCO                   
2                  1                   -                3


2008/9 COMMONWEALTH YOUTH GAMES POUNE INDIA                                         
-                  1                   -                1
                                                                                                                                 
TOTAL
50                  26              21          97 
BREAKDOWN OF MEDALS WON
2007-2010
GOLD    SILVER      BRONZE    TOTAL
50            26                21            97


1995-2010
GOLD   SILVER      BRONZE       TOTAL
200         128                  107           435
Capi Joof said: In conclusion I would like to take this opportunity to express my sincere gratitude and appreciation on my behalf and on behalf of the Federation to our able and dedicated President Mr Fred Lloyd Evans, who has tendered his resignation for reasons best known to him, and I would like to register our heartfelt appreciation to him for all the invaluable and innumerable contributions rendered to Gambian athletics and also the region, continent and international.
"He has indeed subscribed to the aims and objectives of the GAA and has dedicated his life to the promotion and development of athletics.
"We shall surely miss him, his advice and wisdom. We have benefited greatly from this great personality. We all wish him a happy retirement with good health and long life.
"As you are all aware we now have a permanent office at the stadium and you are all welcome to visit, make contributions and suggestions in any form to help improve to the expected standard.
"I also wish to extend our sincere thanks and appreciation to the Ministry of Youth and Sports, the IAAF/CAA, the coaches and athletes, clubs, security services, the sports journalists for their continued contribution to the development of Gambian athletic."
Read Other Articles In Article (Archive)