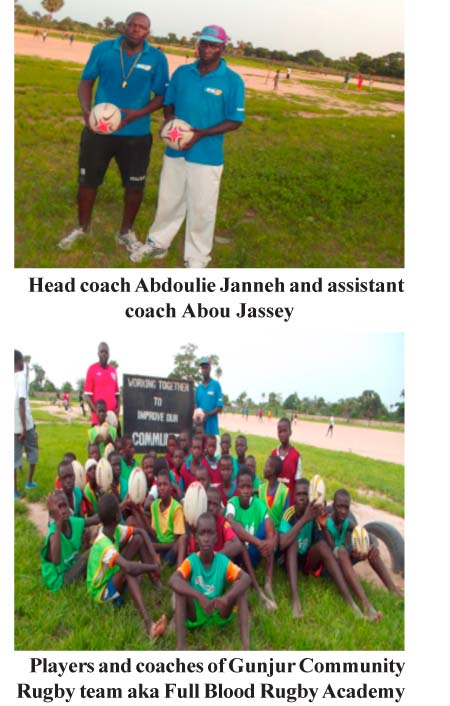 Full Blood Project, a group from the United Kingdom (UK), recently arrived in Gunjur, Kombo South, for a ten-day walking visit.
The Project's trip to Gunjur was facilitated by Gunjur Project lodge. During their stay in Gunjur, the group will train Gunjur Community Rugby team better known as Full Blood Rugby Academy, and Gunjur Upper Basic School Rugby team.
The group has a lot of sports programmes for the Community of Gunjur.
The management of Gunjur Project lodge has always been concerned with rendering good services to the community of Gunjur, such as in sport, education, health and agriculture.
Full Blood Project has come to Gunjur with the motive of supporting the well-established Rugby Academy in Gunjur coordinated by head coach Abdoulie Janneh and his coaching staff Abou Jassey and Lamin Jabang alias Manka Sula, who are ready to ensure the academy stand firm and move forward to realise its dreams and aspirations.
The Gunjur Community Rugby team coaches have also trained Physical Education teachers at the Gunjur Upper Basic School.
As part of their ten-day walking visit to Gunjur Full Blood Project, they have also donated rugby materials to Gunjur Community rugby team better known as Full Blood Project Rugby Academy.
The gesture was part of their Full Blood Project's efforts at promoting and developing rugby to higher heights in Gunjur.
Meanwhile, Gunjur Community rugby team will rub shoulders with Gunjur Upper and Senior Secondary School rugby team on Friday 20 November 2015, at the Gunjur Nyamina Football Field at 4pm.
Head coach Abdoulie Janneh and assistant coach Abou Jassey of Gunjur Community Rugby team applauded the management and staff of Gunjur Project for their benevolent support to their Rugby Academy.
Gunjur Community Rugby team also hailed Alagie Bojang alias Kaku and Gunjur Sports Committee for their support to the team.
Read Other Articles In Article (Archive)