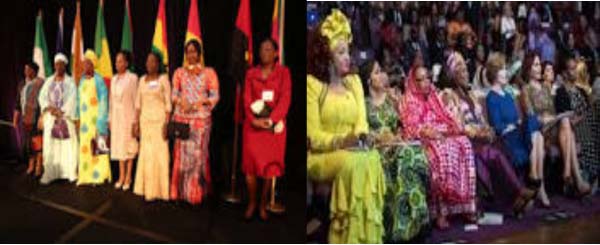 Fashion we all know is part of life. A world without fashion is unimaginable because the world will look raw to all of us. Fashion plays its own part in the happiness of humans.
Fashion can be found in every place, events, our day-to-day activities, our mood and even the way we feel or get attracted to others.
Fashion is in every person, it just depends on the way we define it for our life. Fashion is embraced by all but you will all agree with me that it is so dear to the hearts of women.
Yes there is a strong bond between women and fashion but since women are not selfish they extend their fashion sense to their men as well.
Well since fashion is present in us, around us all the time, which we have seen in the just-concluded US-Africa Summit.
The summit showcased a colourful fashion trend from the First Ladies of the various states that attended it and other female celebs at the summit.
More than 50 heads of state and their guests dined Al Fresco at the White House on Tuesday night as guests of Obama. The hosts were adamant that it was not an official State Dinner and making that point more clearly than all the insistent statements of protocol was the clothing.
The president wore a dark business suit and a pale blue tie instead of the more formal tuxedo, and First Lady Michelle Obama went short.
Instead of a grand, floor-length evening gown, the short that she typically chooses for such occasions, she selected a flowing silk chiffon party dress that fell just a few inches below her knees.
The dress, in a bold shade of canary yellow, had a full skirt, fitted waist and delicate ruffled straps. Its lightness and cheerful color declared the evening a more loose-limbed celebration rather than one freighted with the full load of diplomatic formality.
Fashion is a way of defining both the personal and the group on the world stage. It marks upward economic mobility or at least the appearance of it. It's a way of emphasizing the past, remarking upon it and announcing that it's time to move on.
The many and varied representatives of African nations used the red carpet of the North Portico to celebrate culture, individuality and that universal human weakness: conspicuous consumption.
History was well represented. Jill Biden did her part to underscore the textile traditions that are rooted in Africa with her turquoise wax print dress custom-designed in Congo.
The First Lady of Ghana, Lordina Mahama, was draped in kente cloth. There were flowing traditional robes and elaborate head wraps that merged the past with contemporary fashion gestures.
There were more personal expressions of style, as well some idiosyncratic attention-grabbers, others pure Hollywood glamour. The former speak to the continent's reputation as a self-contained place, where Western trends are ignored and beauty is defined in more diverse and less rigid terms.
The First Lady of Chad, Hinda Deby Itno, stood magnificently in a deep violet gown and a head wrap both exploding with golden sequins.
The First Lady of Cameroon, Chantal Biya, made sure that her hair that renowned russet crown of curls, waves, cotton candy teasing and mullet tails reached celestial heights. An audacious fuchsia head wrap and lipstick matched her elaborately embroidered figure highlighting gown.
The Regal Ange Kagame, daughter of Rwanda's President Paul Kagame, arrived at the White House wearing a sleeveless white, jersey gown very 1970s Halston  that was subtly draped at the waist.
Standing taller than her father, as well as the Obama's, she had a confident stance on the red carpet with a tiny black evening bag clutched in her hand.
The US-Africa Summit's red carpet, by the way, should be instructive to fashion's luxury brands. They would do well to note the numbers of designer handbags not just carried by the presidential spouses but lovingly displayed by them.
 If all those bags were authentic, there was at least $20,000 worth of internationally-recognized status on display in the form of satchels and shoppers.
Cameroon's Biya chose what appeared to be a bright pink quilted Chanel bag to match her ensemble and posed with it dangling front and center against her left leg.
Mauritania's Lady Tekber Mint Melainine Ould Ahmed carried a merlot-colored bag that seemed to have the telltale Lady Dior charms dangling from it.
She held it high on her arm like a personal scepter. And Ghana's Mahama held a wine-colored, medium size double-handled bag that had all the markings of a Hermes Birkin.
The issues facing these dignitaries may differ. Their countries may be wildly diverse. But fashion speaks to them all.
Don't be surprise, is fashion at its best. Fashion is life so if you don't have time for it, you are losing out and remember it's never too late to join the fashion world.
You don't need to be a first lady to look good, just be you. As a woman you need to enjoy the beauty of life and include everything in it around you including you man. As a woman fashion is the answer to win that lucky man.
Read Other Articles In Article (Archive)