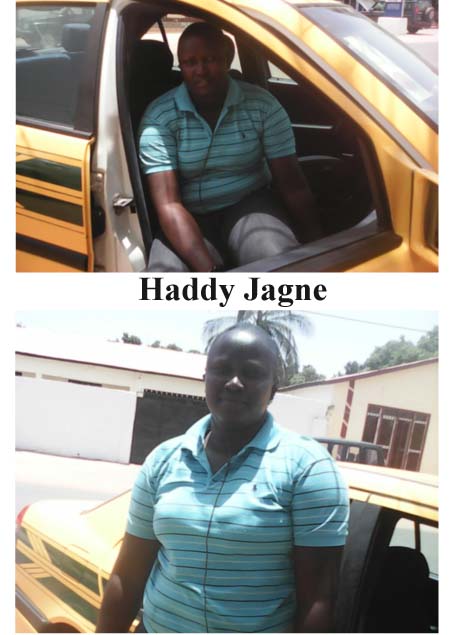 "Raba Raba" hustling or whatever you may call it has no boundary, especially for the one that enjoys feeding himself or herself from his sweat or what he or she toiled hard for.
Gone are the days when a woman who has no official job could only opt for being a maid in another woman's house or become a housewife depending entirely on his man's pocket.
As the world advanced with technology and new ideas arising from every corner of the world, hustling or working hard to live a decent and dignified life becomes the order of the day.
Our brothers at the ghetto call it "raba raba" you could as well give it the name you are comfortable with, but there is nothing more beautiful than feeding, clothing and living your life out of what you worked for, and not what people worked for and give you to survive.
From butchery to taxi driving, for The Gambia's only taxi woman driver, Haddy Jagne, there was no job that was created for men alone on earth because, according to her, if a man could lift blocks and erect or build a house, a woman could do better than that.
In a chat with The Gambia's only female taxi driver, Haddy Jagne, dressed in jeans and looking smart, one could tell that this woman means nothing more or less than business, and hustling or "Raba Raba" is the only language she speaks and understands.
One thing that caught my attention is the way and manner that she comports herself.
She-she-she: Hello madam and welcome to She-she-she. Please can you share with us a little bit about yourself?
Ms Jagne: My name is Haddy Jagne. I live at Bakoteh. I did my primary education at Albion Primary School in Banjul then to Garba Jahumpa Upper Basic School and then to Gambia High Senior Secondary School, where I graduated in 2003.
She-she-she: After graduating in 2003, what where you doing?
Ms Jagne: When I graduated from senior secondary school in 2003, I worked at Sheraton Hotel for about six months as a waitress and I enjoyed working there. From Sheraton Hotel, I started supplying fish and meat to the hotels. I also went to Senegal to buy clothes and other materials there, and be selling them to people here.
Later, I started a butchery business, buying and selling meat for about a year and a half and, while I was doing the butcher business, it was very slow. So I decided to save the money from the sales of the meat, and later bought a taxi.
She-she-she: You said you spent one year and half in the butchery business and the business was slow. What other job did you venture into?
Ms Jagne: I went to a driving school in the year 2004 called "Njie's Driving" for three weeks. Being a commercial taxi driver was something that I wanted to do for a long time, but I did not have the resources by then to buy a car, and I was not willing to take someone's car.
When I was in the butchery business and it was very slow because people were not buying, then I started thinking about doing something more lucrative. That was the time I started saving money.
Then I start thinking about what to do next. That was the time taxi driving came to my mind, and I said since I wanted to do it a long time ago, but I did not have the money; so let me take what I have now and buy a taxi.
She-she-she: When did you start driving as a commercial taxi driver?
Ms Jagne: I started driving the taxi two weeks ago and, so far, I am enjoying it and it is fun for me. I run from Westfield to Bakau or sometimes stopped at Serbina Junction. Some people are laughing and others are encouraging me to keep it up. So I have not encountered any difficulty yet.
Someone once asked me what if I meet with gangsters, and I said I am not going to meet with gangsters because I worked from 7am to 7pm. I make sure that before it gets dark I'm home and I do not go to remote places that are inhabited by gangsters.
She-she-she: Women in The Gambia are into many other lucrative business ventures such as fashion, selling at the markets etc. Why did you choose commercial taxi driving?
Ms Jagne: I know that women are into lots of other lucrative businesses, but there was no woman doing the taxi driving as of now. So I said I want to do it, because I want to do something unique.
I do not want to join the crowd, because if you join the crowd you will not go further than the crowd. Instead you will stop where they stopped. But if you do your own thing, you could go as far as you want to.
She-she-she: Are you doing it for fun?
Ms Jagne: I am doing this as my career, and I loved it.
She-she-she: Any plans for the future?
Ms. Jagne: I have plans for the future. I want to have my own small company whereby I will have my taxis, employees; I will drive as well, and we will render services to companies, offices and anyone who wants a town trip or door-to-door service.
She-she-she: Are you married?
Ms Jagne: That is private.
She-she-she: Do you have any children?
Ms Jagne: I have a beautiful daughter, she is going to school, attending Nigeria International School and, because of her I am plying the road from 7am to 7pm and I don't work on Sundays and Saturdays. I get home at 5pm just to be with her.
She-she-she: Women are doing all sorts of businesses to survive, but commercial taxi driving is not one of them. What message can you send to them?
Ms Jagne: I think we women should bring our egos down a bit, climbed down from our high heels and try to work hard and do something that will yield a profit for us, and not something that will just waste our time.
I see my fellow women doing things that are just a waste of time. I think they should just come down to the level of The Gambia and do something to develop themselves, because no one would do it for them.
She-she-she: As the business grows, will you one day consider going back to school to upgrade yourself?
Ms Jagne: Going back to school? May be, but for now it is not on my agenda. If I can go back to school, I will go but I fear I will not have the time.
She-she-she: What do you think of the concept, "this job is meant for men"?
Ms Jagne: There is nothing meant for men. Let us take this concept "for men" out. A job is for everybody, because if the men could lift up a block, we women could. I think that women are just lazy and if they could stop the laziness, they could do anything a man could do.
If I did not have this taxi, I will still be doing something to dirty myself. When I was into the butcher business, women were telling me that they would not do it, and I did not see anything wrong with it.
Some people tell me that I look like a man and I love behaving like men, but I do not see anything wrong with that. What men could do we could do as well.
She-she-she: Finally, what message do you have for women that are still waiting for office jobs?
Ms Jagne: To the jobless women, the offices are filled up; women should graduate from carrying their handbags jumping from one office to another in search of jobs. Let them do something meaningful for their lives.
She-she-she: Women should know that with the way life is going, it is beyond depending on a man 100 per cent, be it your husband, father, or brother. Women should venture into decent profit-making ventures so that they could live a decent and dignified life for their children or family's sake. 
Read Other Articles In Article (Archive)