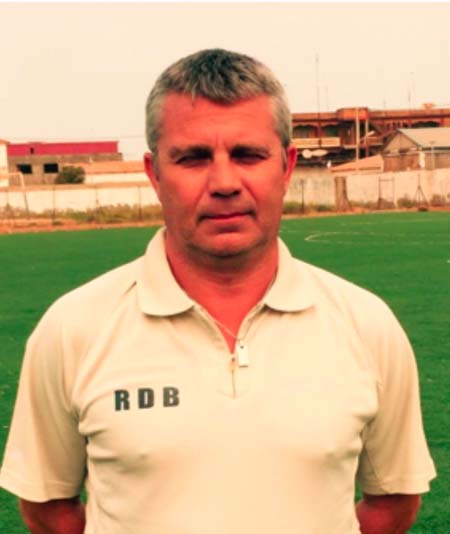 F
ranky van de Velde was head coach of Real de Banjul in September 2013 before his departure for Belgium in April last year due to ill health .
The 55-year-old will start immediately with the responsibility of moving the club forward in a number of areas, including the youth and first team departments. This is a brand new position, and will enable the club to build upon the progress already achieved within such a short space of time.
The appointment does not impact on the role of the Alhaji Amat Cham, who continues being the head coach of the club.
President William Abraham said: "We are happy to welcome Franky to the Club again. He was with us and had to leave due for health reasons, but he is back as the Technical Director."
"We were extremely interested to listen to his ideas and the knowledge and experience he has obtained during his whole career. He will work hand-in-hand with the head coach in order to improve our technical staff. It is key for the club's future that we continue to build a strong structure."
De Velde, who already has a home in the country, will bring a great level of professionalism and shares the same ambitions and aspirations.
He told www.realdebanjul.gm: "I am delighted to be joining again such a progressive and forward thinking football club at such an exciting time. I am relishing the challenge ahead."
"I want to improve the structure the club already has with the first and youth teams. I shall be more busy with the younger ones to facilitate their promotion to the first team. We have an objective of making it past where we normally stop in the CAF Champions League, and I hope we achieve that because we have very good talented players."
"The players are happy that I am back; I am happy that I am back also, because I like the country. Now we have to prove that we are the champions, and we shall be the league winners again and do better in Africa, which is the objective."
De Velde, who is a retired military first chief aviation officer, holds a UEFA B License, and was a former football player who played for Sporting Merelbeke, SK Gijzenzele, FC Perk, SK Houtem and KFC Merelbeke.He started his coaching career in the lower leagues in Belgium where he coached youth players. De Velde has also coached in Sint-Niklaas, KSK Lokeren, KAA Gent and SK Lochristi.
The Gent-born has also had the pleasure to work with names like Johan Boskamp, Piet Demol, Rudi Verkempinck, Danny Dhondt, Charly Musonda, Kevin De Bruyne, Emmerik Davriese, Stanly Opoki, Niels Depauw and Albert Martens.
"Everyone at Real de Banjul would like to welcome Franky again to the football club."
Source Realdebanjul.gm
Read Other Articles In Article (Archive)