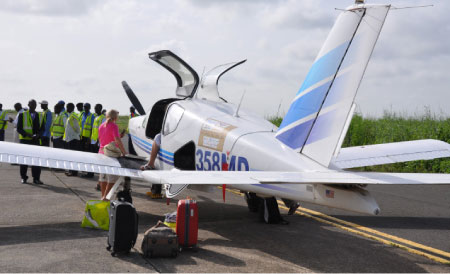 A thirty-seven member delegation from Raid Latecoere Club, an organization based in France that currently has links with St. Therese Upper Basic School has arrived in The Gambia on a day's visit.
The delegation arrived at Banjul International Airport Sunday on board 12 light aircrafts from Ziguinchor, in the Casamance and were met on arrival by the minister of Foreign Affairs, Dr Momodou Tangara, Jean Marc Transon, charge d'affaires at the French Embassy in Banjul and Benjamin Roberts, Director General of the Gambia Tourism Board.
Also at the airport to receive the French delegation were students of St. Therese Upper Basic School, who entertained them.
Speaking to The Point shortly after the arrival of the delegation, the French diplomat Jean Marc Transon said this was the second visit of its kind by the delegation to The Gambia, which have links with St. Therese's Upper Basic School.
"The Gambia is not very well known in France, and this is the reason why we have a lot of French people/tourists going to Senegal for easy communication," Transon stated.
According to him, because of the geographical location of The Gambia, he has plans to link the Gambia Tourism Board with France so that Gambia can established strong links in terms of tourists coming to the country and explore the possibilities in getting Gambia better known in France.
"My plans are to link Gambia Tourism Board with France so that The Gambia will be able to explore the tourism market", he added.
Noting that Gambia has potentials and is a paradise for tourists, Transon said holiday makers can enjoy the beauty of The Smiling Coast with its sandy beaches.
Hervi Benandi, head of the delegation, said Gambia is a nice and beautiful country, and has a lot of potentials to explore the French tourism market.
"This is my second time of coming to The Gambia, because we have links with St. Therese Upper Basic School and our next target is St. Peter's School," Benandi stated.
Dr. Mamadou Tangara, Minister of Foreign Affairs, said the relationship between the governments of the Gambia and France is cordial, and the link between the countries through St Therese Upper Basic School and Raid Latecoere has manifested the strong relationship between the peoples of the countries.
"I know the tourism ministry is dynamic and is working very hard to ensure that Gambia penetrates the French tourism market to create more awareness for Gambia to be known in France," Dr. Tangara added.
Read Other Articles In Article (Archive)