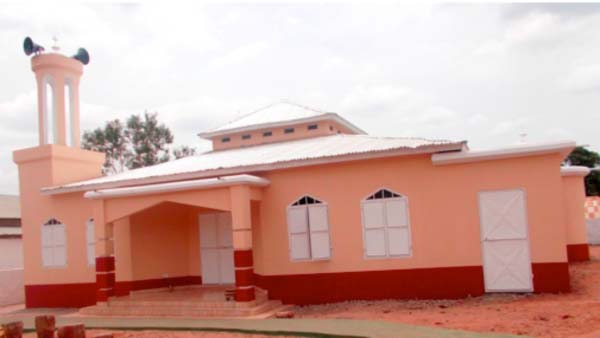 The grand Imam of the newly inaugurated mosque called "Masjid Sheriff Muhammed Lamin Hydara Mosque" in Wassadou village of Foni Jarrol District, West Coast Region, has called on Muslims in the village to always perform their five-daily prayers in the new mosque.

Imam Momodou Sey made this clarion call on Muslims in the village during an interview with this reporter shortly after the inauguration of the said mosque.
According to Imam Sey, mosques all over the world, including the newly inaugurated "Masjid Sheriff Muhammed Lamin Hydara Mosque" in Wassadou, should not be built just for the beauty of its structure but instead the five-daily prayers should be performed at the mosque.
"Five-daily prayers are obligatory upon every Muslim, male or female, and prayer is a unique training and developmental event and if Muslims perform it well they can achieve invaluable spiritual, physical and ethical gains," Imam Sey explained.
He said the Almighty Allah has not created the jinn and humankind for any other thing except for them to worship Him.
"It is clear from the Noble Holy Qur'an that the purpose of our birth and of our life is no other than that of to worship Allah the Almighty," he says.
The importance of performing the five-daily prayers in the mosque cannot be understated, Imam Sey went on, saying prayer is the first pillar of Islam.
This is why its importance lies in the fact that no matter what actions one performs in his life, the most important aspect is one's relationship with the Almighty Allah.
Imam Sey lauded Solo Tamba and Aba Hydara the pioneers of the new mosque thus commended the two people for their efforts at propagating Islam in the village.
He also commended Nfamara Sanyang, member of the new mosque committee and a native of Wassadou village, for giving out his land to the villagers free of charge for the construction of the new mosque.
He sent similar sentiments to Father Ahmed Fleming, a UK national, for his financial support and the people of Wassadou village for the successful and timely construction of the mosque.
Nfamara Sanyang, member of the new mosque committee, who also spoke to this reporter, said that propagating and spreading good information about Islam is every Muslim's business.
"I gave out this land not for material gains, because if it is for material gains I would have sold the land to the villagers, but because of the love I have for Islam that is why I gave this land out to the villagers of Wassadou," Sanyang told this reporter.
Read Other Articles In Article (Archive)