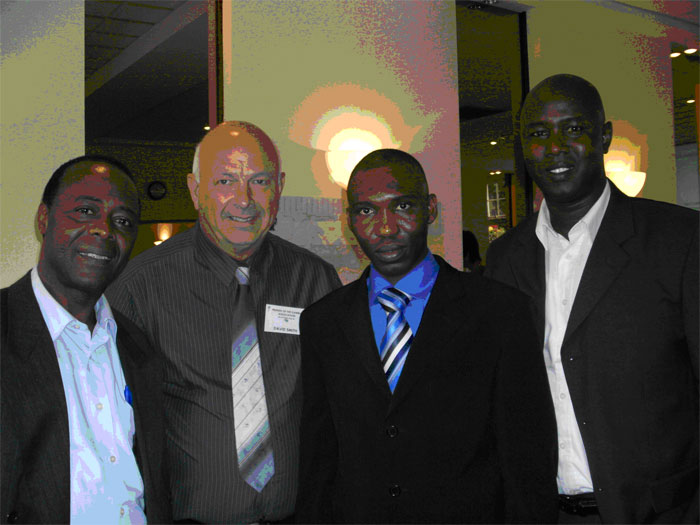 On June 6th 2009, FOTGA marked their 13th Annual General Meeting (AGM) at Coventry City in UK. The AGM was very successful and for the first time since its inception, three Gambians were invited to attend this year's meeting.  FOTGA is a charitable NGO, registered in the UK and The Gambia. Members are mainly tourists that visit The Gambia.
The NGO's objective is to alleviate poverty, and advance the education of Gambians by providing scholarships to needy deserving students. FOTGA has sponsored 205 school children in 2008 academic year, provided scholarship to a student from a Lower Basic School until she graduated at the University of The Gambia, with a BA Degree in Biomedicine and now working at the RVTH.
Among the invited guests at the AGM was Momodou Sanneh, a sponsored student from Armitage Senior Secondary School, who proceeded to MDI for his AAT (level 2&3). He now graduated in the UK as a chartered accountant with ACCA. Mr Sanneh acknowledges that without FOTGA he would have been a school drop-out at grade 9, but fortunately the financial support he received got from the association had saved his educational career.
He expressed his profound happiness and gratitude to all FOTGA members. He pledged to be a member of FOTGA and would pay his annual subscription to sustain the association once he is employed.
As a token of gesture, he tendered his academic certificate to FOTGA. Mr Sanneh worked at MSA Kotu Workshop, DHL, and former Continent Bank in The Gambia before coming to the UK for his ACCA.
Mr.Kebba Cham, a Gambian studying Health and Social Care and specialising on Rehabilitation of the Blind was among the guest speakers. Mr Cham worked for the Gambia Organisation of the Visually Impaired (GOVI). He made a brilliant speech and called on members of FOTGA to visit the blind school in The Gambia and see for themselves what help could be done for the blind youths studying at the resource centre for the blind.  He lamented on factors that affects blind people in The Gambia, such as the negative attitudes of sighted people towards blindness.
 He urged for an attitudinal change towards blindness in general and stressed the need for employers to recognise the potential of blind people in The Gambians and give them maximum support.
He cited policies in the UK for blind people and questioned why such can't be for the blind in The Gambia. He quickly recognises that more education and sensitisation/awareness creation is needed for Gambians to change attitude towards blindness and blind people in the country.
Mr Cham noted that Gambian blind people have limited access to proper education, skill training, and job opportunities, just to name a few.
 He called on stakeholders to redouble their effort in supporting the Gambian blind to enhance a better living condition. He strongly believed that if given the opportunity, blind people could contribute positively to the socio-economic development of The Gambia, and thereby minimise the dependency syndrome.
The out-going Chairman, Mr. Pete Pickett presented a certificate of appreciation to Mamudou Max Jallow, for his outstanding performance and immense contribution to FOTGA. Max, in a brief speech, commended FOTGA for their unflinching support to the annual Brufut Marathon Run and the Gambian community at large.
He emphasised that "without FOTGA, Brufut Marathon Run Association would not have been successfully sustainable". He promised to continue his effort and do whatever he could to help FOTGA in its effort to achieve its objectives in The Gambia.
The meeting voted new executive committee to run the affairs of FOTGA. Mr Andrew Beal was elected new Chairman, Mr. Pete Pickett Ex-Chairman moved to Sponsorship Secretary, while Mr. David Smith, an Ex-Chairman voted Treasurer. FOTGA members are committed to continue their support to The Gambia government. A sum of £25,000 (twenty-five thousand pounds) school project is aimed at Maka Ali Sarr Village, while the association has just funded the construction of Kerr Serign Clinic and donated medical equipment to RVTH and Sukuta Clinic.
Other projects included Badala Nursery School, Brufut Lower Basic School and Nioro Garden Project, according to the Project Manager, Mr. Rob Isdale. The AGM venue was decorated with Gambian traditional equipment and historical objects traced from the 18th century.
Read Other Articles In Article (Archive)