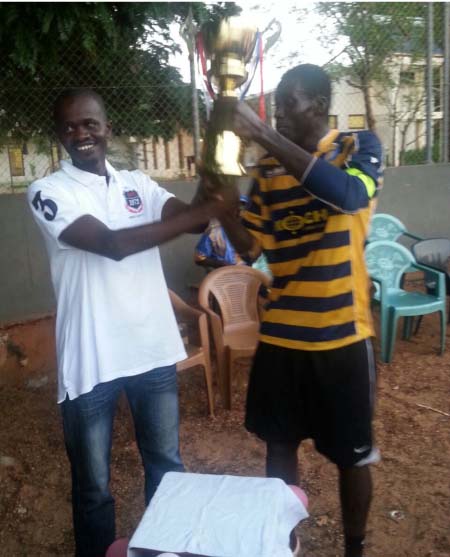 Ceesay Garage FC last Tuesday came from a goal down to beat Dam Jah FC 2-1 to lift the season three trophy of the Fajara youths football tournament organised by Ma Ansu Nicol.
Sulayman Njie took Dam Jah FC ahead in the 26th minute of the game played at the Cocktail football ground but a 56th minute header from Ebrima Camara AKA Franky and a 64th-minute strike from Pa Modou Nyang was enough to crown Ceesay Garage FC champions.
As winners, Ceesay Garage FC went home with a giant trophy and a cash prize of D6,500 while runners-up Dam Jah FC of Pipeline received a consolation prize of D3,500.
Alagie Jallow alias Ninja won the leading goal scorer award after netting 6 goals. As such he was rewarded with a cash prize of D500.
Ma Ansu Nicol, organiser of the tournament, described the recently concluded competition as the best so far, but called on sponsors to come forward and support the tournament to develop grassroots football in the country.
The competition is improving each time it is staged, he observed, adding that he intends to stage the next edition in October.
He thanked Mr Joseph Peacock who sponsored them with the trophy they are using and has been supporting them all the time, adding that the tournament is organised to engage the youth positively.
Speaking to Pointsports, Joseph Peacock said he was proud to be associated with the committee and tournament.
This year has shown the emergence of more teams and more commitment and interest towards the tournament by all teams, he added, but noted that they still face a difficulty of attracting more stakeholders.
The committee is doing a very good job and it was due to that fact he showed his interest in supporting the initiative, he remarked, saying he believed in the fact that "we need to harness the potentials of Gambia youth".
It high time that institutions and companies supported such an initiative and came forward to lend a hand to the committee in this endeavour, he went on.
Fajara is blessed to have a very good pitch but one of their challenges is financial support and trophy to consolidate the gain of teams as there should be a merit for each winner, he highlighted.
Companies coming in will increase the level of interest and motivate surrounding teams to participate in the tournament, he said, appealing to institutions and companies to come forward and give a helping hand to the competition.
The tournament is growing in strength, nature, and popularity with the KMC each year, he observed, in thanking the committee for doing a good job.
Working with YMCA always challenges him to support young people as they are his anchor and "the today of tomorrow", he noted, saying: "We must support them to go forward."
Read Other Articles In Article (Archive)