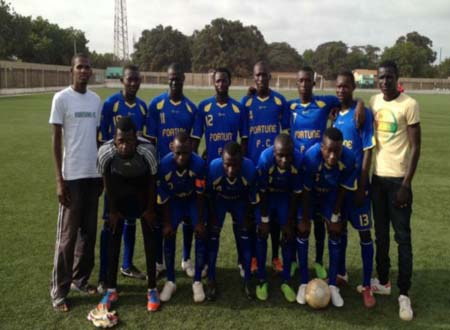 Fortune have maintained commanding lead in the 2016-2017 Gambia Football Federation second division league despite their 2-1 defeat to Banjul United, who are now occupying second-spot.

Lions of Banjul and Wallidan are occupying third and fourth places in the second division league after their stunning performance in the second tier.
BK Milan and Young Africans are both mid-table and will be hoping to win their upcoming league fixtures to improve their position in the league and also to avoid relegation to the third tier.
Kexx United and Serrekunda East Bi are sitting second-place from bottom and bottom-place in the second tier after their poor run of form.
| | | | | | | | | |
| --- | --- | --- | --- | --- | --- | --- | --- | --- |
| TEAM | P | W | D | L | GF | GA | GD | PTS |
| Fortune | 15 | 9 | 5 | 1 | 25 | 6 | 19 | 32 |
| BanjulUtd | 15 | 8 | 3 | 4 | 24 | 14 | 10 | 27 |
| | | | | | | | | |
| Lions of Bjl | 15 | 7 | 6 | 2 | 14 | 10 | 4 | 27 |
| Wallidan | 15 | 7 | 4 | 4 | 20 | 13 | 7 | 25 |
| Red Hawks | 15 | 6 | 3 | 6 | 17 | 13 | 4 | 21 |
| Y/Africans | 15 | 5 | 5 | 5 | 11 | 15 | -4 | 20 |
| BK Milan | 15 | 5 | 5 | 5 | 10 | 14 | -4 | 20 |
| Brufut Utd | 15 | 5 | 3 | 7 | 19 | 22 | -3 | 18 |
| Interior | 15 | 4 | 6 | 5 | 9 | 14 | -5 | 18 |
| Waa Bjl | 15 | 4 | 5 | 6 | 10 | 13 | -3 | 17 |
| Blue Star | 15 | 4 | 4 | 7 | 13 | 15 | -2 | 15 |
| Bakau Utd | 15 | 3 | 6 | 6 | 14 | 19 | -5 | 15 |
| SK East Bi | 15 | 4 | 4 | 7 | 6 | 13 | -7 | 15 |
| Kexx Utd | 15 | 3 | 4 | 8 | 10 | 20 | -10 | 13 |
Read Other Articles In Article (Archive)