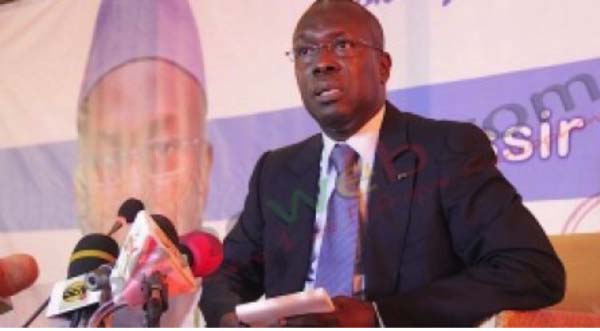 Souleymane Ndene Ndiaye, the last Prime Minister under the regime of former Senegalese President Abdoulaye Wade, has left the Senegalese Democratic Party (PDS) and formed his own party, bringing the total number of registered political parties in the country to more than 230.
Speaking at the launching of the new party, the Union Nationale pour le Peuple (National Union for the People (UNP) in Dakar on Thursday, Ndene Ndiaye said the party's foundation is based on the principles of freedom, solidarity and patriotism.
He went on to pay homage to former President Wade, whom he described as his mentor and who taught him all that he came to know in politics.
However, he said the time has now come for him to stand on his own.
"I want to offer a new vision in Senegalese politics and I intend to fight for the interests of the people. The UNP is the party of justice and social inclusion. It was not developed abroad by foreign specialists but by Senegalese from here, in the same country," he said.
Ndene Ndiaye added that his party's objectives include infrastructural development with modern means of transport, education, health and sufficient energy.
He said his economic policies will be based on agriculture and animal husbandry, as well as putting in place effective remedies to fight against poverty.
As regards "transhumance" (the practice of leaving one political party for another), Ndene Ndiaye condemned it as being dishonest.
He said when his party gets into power; it will outlaw such a practice and ensure that perpetrators of such political gimmicks would lose their civic rights.
On his take on the current debate on the presidential term, which President Macky Sall intends to reduce from seven to five years, Ndene Ndiaye said when the UNP gets into power; they will ensure that it is fixed at seven years, renewable only once.
"In five years, one cannot achieve much. The proof is that Macky Sall has already served three years and he has not done much," he remarked.
The founding of the UNP has rekindled the debate on the proliferation of political parties in Senegal.
With a population of less than 15 million, Senegal already has more than 230 registered political parties and several political movements.
"It is indeed scandalous for a small and poor country like Senegal to have such a large number of political parties when bigger and much richer nations like France and the United States, for instance, each has not more than two political parties," said Dame Gueye, a political analyst.
He, therefore, called on the Senegalese authorities to raise the bar on the registration of political parties in order to eliminate all those that he referred to as one-man entities.
Read Other Articles In Article (Archive)