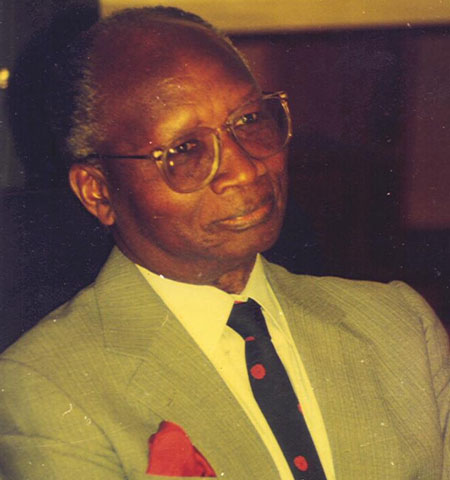 Sir Dawda Kairaba Jawara, former President of the Republic of The Gambia, has been designated "Man of the Year 2010" by the Gambia News and Report weekly newsmagazine, following the publication of his autobiography giving a graphic account of his time.                                                                       
In a letter conveying the news to the former President, now an elderly statesman, Swaebou Conateh of the Dippakunda-based Gambia Communication Agency and Baroueli Enterprises, the publishers of "The News and Report" weekly newsmagazine, stated that Jawara's selection was "because of your remarkable example of, among other things, resigning from your post as department head during the colonial regime (Principal Veterinary Officer) to fight for Gambian independence, thereby becoming successively Premier, Prime Minister and first President of the Republic of the Gambia; leading the country to independence, multi-party democracy. respect for human rights, economic and political stability, a full account of which you have in your 2010 autobiography, unveiled at a public launch presided over by the Gambian head of state and attended by Sierra Leone's former President, among other dignitaries, now bestowed to posterity and to the Gambian nation in the book entitled "Kairaba, the autobiography of Sir Dawda Jawara", the management of The Gambia News and Report Weekly Magazine" is satisfied that you have met the criteria for the award".
According to a statement from the News and Report, Jawara's case also illustrates possibilities for individual citizens who care enough about their country's standing in today's world and points to the importance of putting nation before self through strength of character, sacrifice and resort to high principles.
By such example, the statement added, Jawara has earned for himself a name and an indelible place in our country's history as founding father, leader and elder statesman as well as the high regard, admiration and respect of all.
"Since we also believe that, like some other prominent leaders of the past, your story will remain for all Gambians an important example of good leadership--to serve as a point of reference in terms of civic responsibility and service to the nation--we take this opportunity to salute you for what you have been able to achieve in the annals of our country's history. We know your sacrifice, steadfastness and highly commendable contribution are bound to remain a source of inspiration and exemplary conduct to our citizens for now and generations unborn.
"The management of 'The Gambia News And Report' weekly newsmagazine being thus satisfied that you have met the requirements to be designated the newsmagazine's "Person of the Year 2010," now congratulates you most heartily on your selection and designation. Congratulations on your well merited recognition."
Previous Man or Gambian of The Year named by The Gambia News and Report were Amadou Samba; Pa Sallah Jagne (former IGP); Dr. Ebrima Samba (formerly of WHO); Late Dr. Lenrie Peters; Politician Lamin Waa Juwara; Mrs. Isatou Njie-Saidy (Vice-President); Bai Lamin Jobe of Gamworks; Mrs.Harriet Ndow (educationist); Imam Karamo Touray (late); Mrs. Hassan Jallow (Justice); Ousman B. Conateh (Fisko); Muhammed Jah (Quantumnet); late Journalist Deyda Hydara; Pa Sallah Jeng (former Mayor); Bolong Sonko and Mustapha Njie, alias Taf, (joint winners); President Yahya Jammeh; Dr.Isatou Touray (gender-activist); and Kora maestro Jaliba Kuyateh.
The Gambia News and Report Newsmagazine, which started publication as a monthly in February 1992, has since June 1996 been published weekly.
Read Other Articles In Article (Archive)