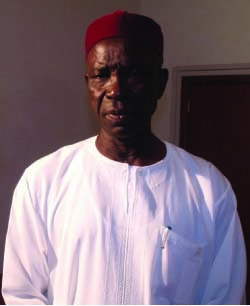 Alhaji Momodou Dibba, former president of the Gambia National Olympic Committee (GNOC), on Saturday 25 February 2017 passed away in Banjul.

He was laid to rest on Sunday 26 February 2017 at the Old Jeshwang cemetery, following prayers at the King Fahd Mosque in Banjul.
The late Dibba served as general manager of the Gambia Cooperative Union, secretary general of GFA, as well as president of the Gambia National Draughts Association.
The late Dibba was first elected GNOC president in February 2011 to fill the position of president, which was vacant since November 2009, when former president Lt Gen Lang Tombong Tamba was arrested, charged to court and convicted of plotting a coup.
Out of a possible 47 votes, eight sporting associations having double votes, and 10 sporting associations and individuals with single votes voted for Alhagie Momodou Dibba, giving him a total of 26 votes.
The remaining 21, including sporting associations with double and single votes and individual voters boycotted the polls, leaving presidential hopeful Abdoulie Bax Touray with zero votes.
In 2013, he was re-elected to lead the organization, but ahead of the 5 November 2016 GNOC election he con-firmed he would not run for the organisation's presidency.
When contacted at the time, he announced he "will retire on the 5th of November", on the day for the election.
"I want to retire gracefully, and wish the candidates best of luck. At the same time, I want all of them to put the interest of the country first, and run their campaign with maturity, discipline and a sporting agenda that would attract the voters," he said at the time.
"I thank the GNOC board, management, staff, all stakeholders, national associations, the government, especially the Ministry of Youth and Sports, IOC, ANOC, ANOCA, Zone 2, and ISSF, for their positive role and collaboration in supporting the head of the sporting fraternity in this country," he added.
Dodou 'Capi' Joof who replaced the late Dibba at GNOC as president, when contacted described the death of Dibba as "a huge loss to Gambian sports".
He further described the news as 'shocking' to him and all sports lovers in the country and beyond.
"The late Dibba has ever been a sportsman; loved sports and spent his entire time in sports", he further said about a friend he grew up together with in the same street in Banjul.
Capi also described Dibba as someone who was "very kind and friendly".
According to him, Dibba served the GNOC as president with "dedication, commitment and hard work throughout his terms as president".
He concluded by praying to Allah to grant Dibba the highest place in Jannah.
Pap Saine, co-publisher of The Point newspaper, who doubles as honorary life president of the Sports Journalist Association of The Gambia, said the late Momodou Dibba has contributed a lot to the development of football, when he was GFA Secretary General.
Mr Saine, who has worked with the late Dibba when he was GFA Press Officer, added that they have travelled together world-wide, with Dibba "being very dedicated and always in the service of sports".
"May his soul rest in perfect peace", he prayed.
Mohamadou Musa Njie, president Gambia Basketball Association, also interviewed began by sending his condolences to the family of the deceased.
Papa Njie, as he is widely called, described Dibba as "a very good friend to everyone in sports, and someone who also contributed a lot to the development of draughts, football and sports in general".
According to him, Dibba will always be remembered for "the tremendous contribution he made to the advancement of Gambian sports".
He also prayed for Allah to grant Dibba Jannah.
Ebrima N. Manneh, Gambia Football Federation Technical Director, said Momodou Dibba (may his soul rest in peace) was a family man, "a great sports personality, patron of the game of football, an exemplary sports personality and a humble human being".
"He understood as a leader, and accepted individual difficulties as a father," he added, saying "sport will miss him and people in his circle will definitely miss him".
"As a country, we will miss him," TD Manneh went on, adding: "For his leadership and wisdom, may Allah grant him perfect peace."
Read Other Articles In Article (Archive)