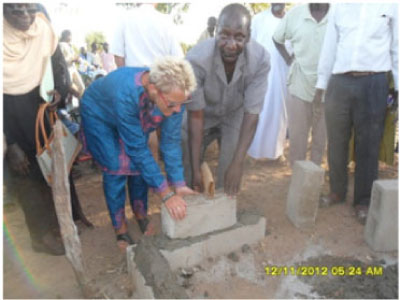 Foundation for the Needy Gambia (FON-GAM) on Thursday laid the foundation stone of a skills training centre at Tujereng village in Kombo South District of West Coast Region.
The project, which is funded by the International Danish partner SOS-Gambia, will commence from April 2013 to April 2014, FONGAM officials revealed.
Speaking at the site shortly before the laying of the foundation stone, Mr. Edrisa Colley, Officer in-charge of the National Training Authority (NTA) said he is convinced that government and NGOs, international development partners, wealthy individuals and organised private sector and community leaders endeavour to properly establish young people, through skills acquisition as they prepare for their future roles in society.
"The laying of the foundation stone of Tujereng skills training centre was one such a sign and I am very proud of the crucial initiatives FONGAM has undertaken to invest in skills training in The Gambia," Mr. Colley said. He expressed his profound appreciation to the Executive Committee of FONGAM for their noble undertaking.
He challenged FONGAM members to ensure that the skills centre upon completion would fulfill all its requirements, as laid down by the NTA. He said skills acquisition is a universal remedy to youth development and poverty reduction.
Mrs. Jeandarc Jarju-Kujabi, FONGAM's Assistant Secretary, who also doubles as the Principal Regional Public Health Nursing Officer for the West Coast Region (2), said FONGAM is a voluntary, non-political, non-discriminative organisation registered in 2008, with the main goals of complementing government efforts in the area of education, health and community development.
For her part, the founder of SOS-Gambia Susanne Skove Petersen, said SOS-Gambia started operation ten years ago, but has now grown from an individual, called Susanne Skou Petersen, to a vibrant group of people in Denmark. "Resources are raised to provide scholarships to education institutions, such as Omar Drammeh Memorial, Lend-a-Hand, Latrikunda Danso, Albreda Lower and Upper Basic schools, and others." 
FONGAM's Chairman Mr. Momodou Lamin Jagne said during 2012/13 academic year, FONGAM has provided bursaries to over 189 students, at a total cost of D533, 320. He noted that FONGAM also provided educational materials to four skills centres, Lower Basic and Senior Secondary Schools in the country. "Tujereng skillscentre will be the priority and main pre-occupation of both FONGAM and SOS-Gambia in the coming years, thus the project will seek the support and cooperation of all stakeholders, particularly the local authorities of Tujereng," Mr. Jagne said. 
Others who spoke at the site were the Director General of GTTI, Musa Loum, Deputy Imam of Tujereng Sheriffo Jatta, Karamo Bojang alkalo of Tujereng, and Omar Nyass.
Read Other Articles In Article (Archive)