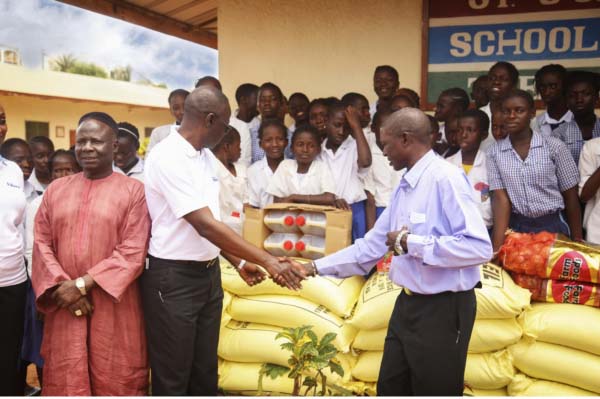 FiBank Tuesday presented food items to St. John's School for the Deaf at a ceremony held at the school grounds in Kanifing.
The donated items were 15 bags of rice, 2 bags of onions, 6 pots of tomatoes and 5 bottles of 5liter oil.
Speaking at the presentation, the Principal of St. John's School for the Deaf, Daniel J. Mendy, said St. John's was the only school of its kind, which had been meeting the need of deaf children in The Gambia.
He said presently they have over 256 deaf children that are really deaf and many a time they come out to moderate the affected and they are referred back to the main school where they continue their education with the necessary support.
As a result of their efforts, he added, the school presently has a nursery component, primary component, primary post, junior and even senior component in Grade 10 and 11.
He said that in 1978, the founder of the school started as a missionary who wanted to support one deaf child to communicate verbally but later people in the vicinity knew about his effort and started bringing their own children and the number increased to 26.
According to Mr Mendy, in 1982 the government allocated the land for the school to be created so the number kept increasing and currently they have 256 students.
He said their areas of concern are many as they have feeding to battle with and are also aware that World Food Programme has been really supportive, together with the Gambia government.
He said they are also witnessing another support from FiBank who had presented numerous items to the school to support them.
He said their other concern is transportation as they are running three different buses from Brikama to Sukuta, Lamin, Banjulinding and Tabokoto, which cost them a lot.
He urged all citizens and non-citizens to support them, adding that he appreciated FiBank for their gesture.
Pa Ousman Njie, FIBank General Manager, Institutional Banking, said they were at the school to lend a hand to St. John's School for the Deaf, adding that they were very grateful to the school for opening their doors to them and allowing them to give a token back to the society.
Mr Njie added that they have seen the school and understood some of their problems, noting that at FiBank they could assure them that they do not only come to listen to them but to make sure they partner with them from that day onward.
"This is the only school of its kind in the country and we are very honoured to associate ourselves with them going forward," he concluded.
Honorary Life President of the Parent Teachers Association of St. John's School for the Deaf, Amadou Touray, described FiBank's gesture as worthy, because they were thinking of writing to institutions to come to their aid and help them with items such as rice, oil, onions, and potatoes.
Read Other Articles In Article (Archive)