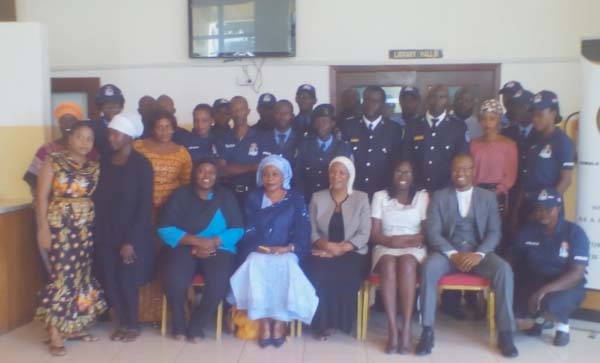 Female Lawyers Association of The Gambia (FLAG), with the financial support of ActionAid International The Gambia, recently held a daylong training for senior police officers on methods of providing legal counselling in cases of gender-based violence.

The purpose of the training, held at NaNA on Thursday, is to familiarise the officers on how to counsel and guide victims of gender-based violence.
Jainaba Nyang, ActionAid director of communications, said violence against women is not well documented in The Gambia as the number of cases reported is insignificant.
"The number may be higher than known given the fact that most incidents largely go unreported," she said.
According to a study by ActionAid in 2007, the culture of silence has made women to suffer in silence and even whereas they are encouraged to take bold steps to report the matter to the police, in most instances they withdraw as they do not want to have their linen washed in public.
The Gambia has signed and ratified several international conventions that address gender based discrimination and violence.
These include the Women's Act 2010, the Protocol the African Charter on Human and People's Rights, the Rights of Women in Africa, the Sexual Offences and Domestic Violence bills address issues associated with violence and socio-economic empowerment of women.
Mrs Nyang said the enactment and ratification of these statues demonstrate The Gambia government's recognition of the need to address the problem of domestic violence in The Gambia.
As regards ActionAid, she said in its current Country Strategy Paper, ActionAid efforts focus on programme activities aimed at eradicating poverty and addressing the root causes of injustice that contribute to poor people exclusion.
"In pursuit of this mission ActionAid has forged partnership with several organisation at local and national levels including FLAG," Mrs Nyang said.
Haddy Dandeh-Jabbi, president of FLAG, said domestic violence mostly affects women but men also fall victim.
"Domestic violence is a problem that affects all nations and societies," she said.
The UN declaration to eliminate violence says violence against women means any act of gender-based violence that results in physical and sexual harm.
Section 17 of the Domestic Violence Act, 2013, states that any person in domestic relationship who engages in a domestic violence commits offence and is liable on conviction to a fine exceeding D50,000 and imprisonment not exceeding two years or both.
Read Other Articles In Article (Archive)