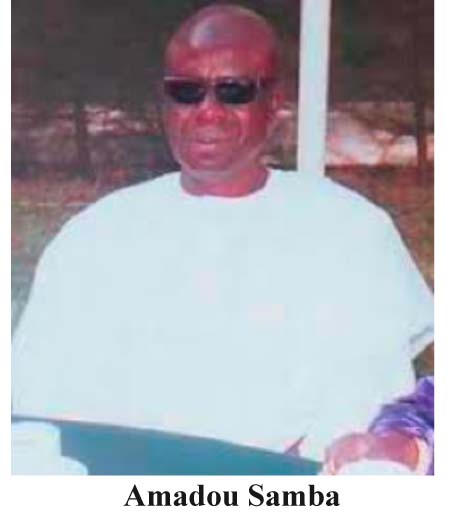 Following the renaming of the Brikama-Gunjur Highway after him and conferment as honorary citizenship of West Coast Region, a leading Gambian businessman and supporter of the APRC, Mr Amadou Samba, pledged a half-a-million dalasi gift to the people of The Gambia's most populous region.
Last weekend on the first day of Ramadan, Mr Samba came good on his promise. He delegated Sheriff Bojang, the Minister of Information and Communication Infrastructure to deliver the cash to the Governor of West Coast Region. Governor Aminata Hydara then presented the cash gift to representatives of the whole region including the Speaker of the National Assembly, some cabinet ministers, National Assembly members, the paramount chief other seyfolu and councillors, APRC national women's mobiliser and women and youth leaders on the sidelines of a regional meeting at the Governor's Office on Friday.
While presenting the cash to the West Coast Governor, Minister Bojang said Amadou Samba "has many constants in life and one of them is his love and loyalty to His Excellency, the President and the APRC and his patriotism as a proud Gambian." He described Mr Samba as "a gentleman of the first order who has used his wealth to develop young Gambians and contributed generously in building mosques and assisting indigent Muslims throughout the country."
Mr Bojang also noted that Mr Samba has longstanding ties with Brikama and Gunjur. "Members of his family have been living in Brikama for well over half-a century; his wife, Aunty Katie, has roots from Gunjur and he owns Amasa, one of the more football and social clubs in Brikama which will be celebrating its 20th anniversary next month."
In receiving the gifts, Governor Hydara thanked Mr Samba through His Excellency, the President, Sheikh Professor Alhaji Dr Yahya AJJ Jammeh for the cash gift and said Mr Samba's loyalty to the president, the country and the party is worthy of emulation by all.
Similar sentiments were expressed by Speaker Abdoulie Bojang, the Interior and Land ministers Ousman Sonko and Momodou Aki Bayo and other speakers.
Read Other Articles In Article (Archive)