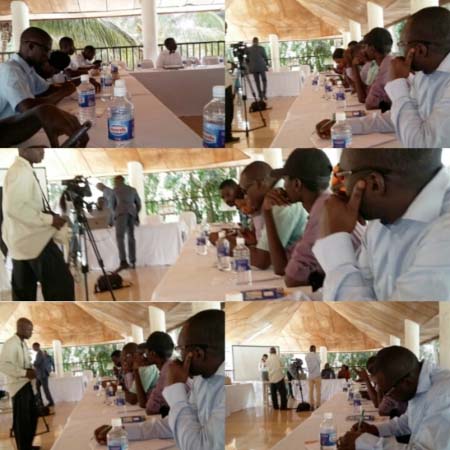 Training for journalists on consumer protection and competition, organised by The Gambia Competition and Consumer Protection Commission (GCCPC), ended at the Joint Officers Mess in Kotu on Thursday.

The daylong training workshop aimed at enlightening the media with first hand information on the role, functions and objectives of the GCCPC.
It aimed to raise awareness on the work of the commission, ensure the availability and affordability of essential commodities and to protect and promote consumer welfare and competition across all sectors of the economy in the Gambian market.
The Gambia Competition and Consumer Protection Commission is an independent public institution established to enforce and put into effect the Competition Act 2007, administer the Consumer Protection Act 2014 and Commodities Act 2015, geared towards the protection of consumers' welfare in the procurement of goods and services. It also enforces and promotes fair competition in the Gambian economy.
In his opening remarks, the Executive Secretary of GCCPC, Amadou Ceesay, emphasised the importance of the media in the attainment of the commission's objectives in raising public awareness on competition/consumer protection.
"Media advocacy can help raise awareness of both the role and actions of the GCCPC,'' he said.
Mr Ceesay said that media practitioners have a critical role to play in ensuring that the benefits of competition or consumer protection reach the public.
He added that for effective public advocacy to take effect, the media must fully understand their role, functions and objectives.
Emil Touray, president of The Gambia Press Union, hailed the GCCPC for conducting the first-media workshop on consumer protection, describing it as both ''timely and groundbreaking''.
He advised the participants to make the best use of the training and share the knowledge gained to their colleagues.
Kumba Leigh, one of the participating journalists, said the training would go a long way in improving their capacity as far as consumer protection and related issues are concerned.
She urged her colleagues to be more active in raising awareness on the role of the GCCPC.
This was the first training of its kind that The Gambia Competition and Consumer Protection Commission (GCCPC) organised for the media fraternity.
More than 18 people, drawn from different media houses across the country, took part in the workshop.
Read Other Articles In Article (Archive)