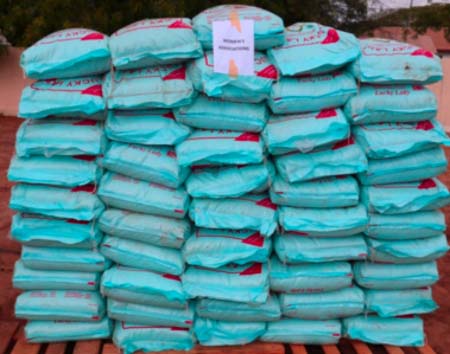 Gambia's First Lady Zineb Yahya Jammeh Friday donated 1,111 bags of rice to orphans, children with disabilities and local women's associations, as a modest contribution in the holy month of Ramadan.
The beneficiaries are SOS Children's Village, St. John's School for the Deaf and eleven women associations.
SOS Children's Village in Bakoteh received 150 bags, SOS Children's Village in Basse also received 150 bags, St. John's School for the Deaf received 315 bags and the eleven women associations received 496 bags.
The eleven women associations are Alamuta Kafo in Ebo Town, Bakoteh Badinya Kafo in Bakoteh Serrekunda West, Kanor Isatou Bojang Group in Tallinding Serrekunda East, Serrekunda Central Women Development Association in Bundung, Iftar Fisabililahi in Gloucester Street, Banjul Central, Bole Tahaw Women's Group in Tanji village, Sandika Women's Association in Serrekunda, Dibilola Market Women in Sukuta, Group Juboo in Manduar, Haldi Foti in Sinchu Sori and Jiko Nyima Women's Group in Tobacco Road Banjul South.
Speaking at the presentation ceremony held at State House grounds in Banjul, the Vice President, Isatou Njie Saidy, on behalf of the country, thanked the first lady for her "generosity, compassion and love for humanity, which is very much in line with President Jammeh's benevolence."
She noted that behind every great man, there is a great woman and that has been proven in The Gambia.
VP Njie-Saidy told the gathering that this was not the first time the first lady was assisting humanity, adding that she assisted disadvantagedgroups in The Gambia.
She is the founder of various groups, institutions and associations or organizations such as OFLAGAM and Operation Save the Children Foundation, the VP added.
She had spearheaded the cervical cancer programme and, as the chief patron of women in this country, she would always attend women's activities like national celebrations, adding that the first lady has always brought herself to the level of women in this country.
Binta Jammeh-Sidibeh, the Executive Director of Women's Bureau, on behalf of the beneficiaries, expressed gratitude and delight to the first lady.
She said most of the women have never been to State House, adding: "This is one benevolence that when you are a leader you allow people to come to your level."
"This is a big day for the women: to come to State House alone is enough especially in this month of Ramadan - it is a blessing and whatever you do according to the holy Quran would be multiplied," she said.
Binta Jammeh-Sidibeh added that are not surprise that the first lady is beside a visionary leader, who has also distributed over six thousand bags of sugar to the whole country.
She added that the first lady has wiped the tears of Gambian women.
The ceremony was chaired by Halimatou Tambadou Jawara, permanent secretary at the Office of the First Lady in Banjul.
[endif]
Read Other Articles In Article (Archive)