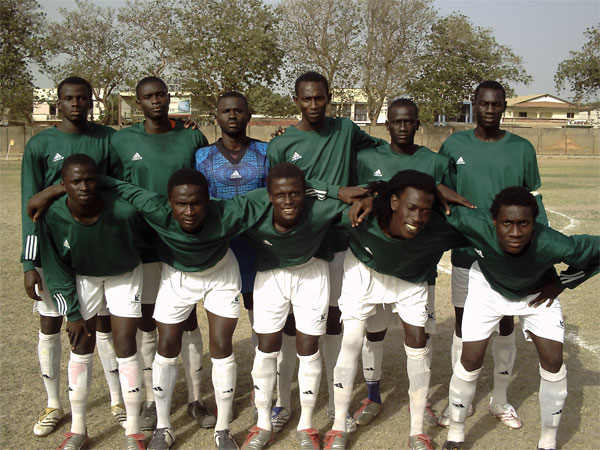 The 2008/09 GFA first division twelve team championship which has produced some fantastic display will enter into its final week this weekend with some decisive and interesting encounters.
Hawks who spent the greater part of the season struggling at the bottom of the 12 club championship will have some thing to be optimistic about due to their recent improvement on the league standing, which moves them 2 steps above relegation zone with 26 points and a win against second from bottom place Africell FC in their last game on Saturday will surely see the Banjul club maintain their place in the country's top flight football next season.
Africell's performance in recent years has been very much demoralising especially when they were relegated to the second division two seasons ago and it is not yet certain whether they will play in the first division next season considering their current league standing on 22 points only 1 points separating them and their closest rivals Brikama United who are also one of the relegation threatened after securing only 23 points.
Tallinding United who are certainly relegated to the second division have absolutely nothing to play for but the division one returnees may cause upset when they meet Real de Banjul who will be hoping to improve on their current standing to avoid relegation.
Brikama united who made their first appearance in the first division will also fight for their lives in order to avoid second division football next season when they meet Bakau united in Brikama on Saturday.
The Academy Boys and Super Cup champions, Samger, who looked determined for another silverware for this season will take on Gamtel at the Independence Stadium on Saturday.
Wallidan and leaders Armed Forces will travel to western Region for what could be described as a mouth-watering encounter on Sunday.
Sea View will entertain Steve Biko at the Independence Stadium.

Below is the fixture of the last games in the GFA first division league:

Results Thur. 20/05/09
Armed Forces 1-0 T/United
Brikama United 2-0 Samger

Week Twenty-two
Sat. 23/05/09 Hawks Vs Africell FC - 4.30pm - S/KEast
Sat. 23/05/09 T/United Vs Real -  4.30pm - Manjai
Sat. 23/05/09 Bakau Vs Brikama United - 4.30pm - Brikama
Sat. 23/05/09 Samger Vs Gamtel - 4.30pm - Stadium
Sun. 24/05/09 Wallidan Vs A/Forces - 4.30pm - Brikama
Sun. 24/05/09 Sea View Vs Steve Biko - 4.30pm - Stadium
Read Other Articles In Article (Archive)