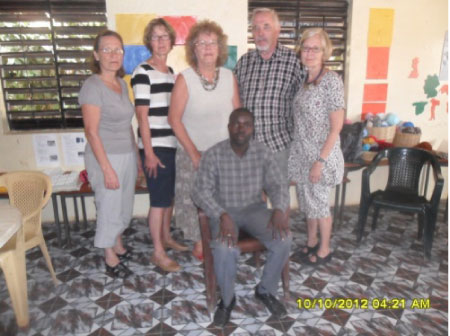 Five Finnish nationals, all retired teachers, are currently in the country offering free classes to teachers at The Gambia Organization for Visually Inspire (GOVI) teachers.
The development formed parts of a friendship between the school and the Finish. The team is led by Anino Kemppainen, who has been visiting the school for the past two years.
Speaking to this reporter at the GOVI School in Kanifing, Anino Kemppainen, said they will stay for two weeks at the school to train GOVI teachers on various areas like sense practicing, identification of things, mathematics, geography map, body language among others.
"We will also introduce knitting as a new subject to the school and I am happy to inform you that we also brought along with us game tactile materials for the students and this is not going to be the last aid we are to offer to the school; we will do more in future," she promised. 
According to Anino Kemppainen, blind people do listen to many things but they don't know their meanings, this is why they felt that it is important for her team to sponsor themselves travelling to The Gambia and teach GOVI teachers in those areas.
The head teacher of GOVI Resource Centre, Ali Sallah, thanked the Finnish nationals for offering free classes to twenty of their staff.
According to him, out of the participants fourteen are blind and six are sighted teachers.
He added that as teachers of a blind school they would do all they could to teach what they learnt during the course of the two weeks.
"We really appreciate your good gesture and I pray for the strengthening of the relationship to the highest heights," Mr Sallah stated. 
The other four members of the team are Marjatta Lehtinen former visually blind teacher, Saara Vellacott and Kaija Korhonen both former primary school teachers. The team also includes Errki Lehtinen, a former handicap teacher.
Read Other Articles In Article (Archive)