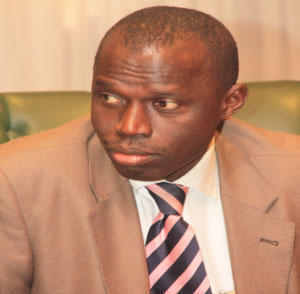 The Minister of Finance and Economic Affairs, Abdou Kolley, Wednesday tabled three loan agreements before National Assembly members.
The loan agreements are between the Gambia government and Abu Dhabi Fund for Development, an agreement between the Gambia government and International Development Association, and an agreement between the Gambia government and Export-Import Bank of India.
For the Abu Dhabi Fund for Development, the Finance Minister informed deputies that a credit financing instrument was signed on 30 June 2014, for AED 36,730,000 equivalent to USD10,000,000 for the co-financing of the Laminkoto-Passimus Road Project.
According to the Finance Minister, the project aims to support the economic and social development in the northern eastern region of The Gambia by improving its link with the capital city of Banjul and its main seaport.
It was also to further improve connections with the remaining regions of the country in all weather conditions, to improve the exploitation of their agricultural products and reduce its transport cost and time, and to facilitate access to markets and social services, he said.
Minister Colley added that the project comprises the reconstruction and upgrading of Laminkoto-Passimus Road with a total length of about 121.3 km and width of 7m with a 1.5m paved shoulder on each side.
The project also includes consultancy services for revision of tender documents and supervision of construction works, he said.
Hon. Tombong Jatta, member for Serrekunda East and the majority leader, thanked the Minister of Finance for tabling "this important agreements" before the assembly.
"These loan agreements are very important," he said, adding that over the years, the people of Wuli have been experiencing a lack of good roads, and the agreement would be very important to them.
The majority leader further said the Gambia government under the leadership of President Yahya Jammeh has already constructed the road from Barra to Janjanbureh, which is a first-class road network.
"This government is more than committed to consider this road network," he stated.
Ousman Njie, Member for Sami, said the "agreement is very important", for the construction of a road network.
"The construction of this road is very timely, as it would improve the lives of the people in that area," he added.
Read Other Articles In Article (Archive)