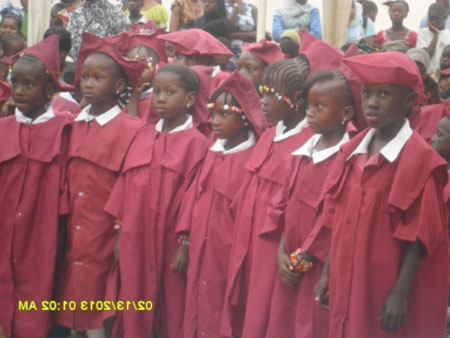 Fifty-five pupils from Nursery four at Nyodema Nursery School in Manjai Kunda recently graduated at a ceremony held at the school grounds.
The event also marked the school's 12th graduation and prizing giving ceremony since its establishment some 26 years ago.
In her keynote address, the guest speaker Ramata Camara-Bah, a seasoned teacher, urged the parents, teachers, pupils and the community at large to come together and help the headmistress of Nyodema Nursery School, Mariama Secka-Darboe, whose aim is to give basic education to future leaders of the country.
"We should all work hard to help promote education in our livelihoods and ensuring that our future leaders get education as it raises awareness and helps build moral values in our communities and the world at large," Mrs Bah said.
She also talked about the importance of education which she said is meant to complete the socialization process.
According to her, the children of today are the future, so preparing them and taking good care of them should be a collective responsibility.
Mrs Bah used the ceremony to ask parents to pay their children's school fees on time, adding that it is important therefore that parent's pay their children's school fees early in the year so the school administration can plan successfully for the year ahead.
For her part, the headmistress of the school, Mrs Secka-Darboe, in presenting her school's annual report before the gathering said her school enrollment for this academic year is 175 pupils out of which 100 are boys and 75 are girls.
Mrs Darboe commended her sponsors, some Belgium friends who are the main partners to her school for the past years.
Since 1998, Mrs Darboe went on, her school is blessed with students from Belgium, adding that two of her teachers at Nyodema Nursery School are benefiting from those students teachers sponsors on ECD course at the Gambia College. 
She described her staff as very dedicated and hardworking teachers who have concern for their own future younger brothers and sisters. 
The Alkalo of Manjai Kunda, Momodou Salieu Gomez, also spoke at the ceremony on behalf of the parents of his area.
The ceremony was graced by the representatives from Region one office, Kanifing and Mr Bass, principal of Bakoteh Upper Basic School, and local dignitaries with Manjai Kunda catchment area.
The passing-out ceremony also witnessed the presentation of prizes and certificates to both teachers and pupils of the school.
Read Other Articles In Article (Archive)