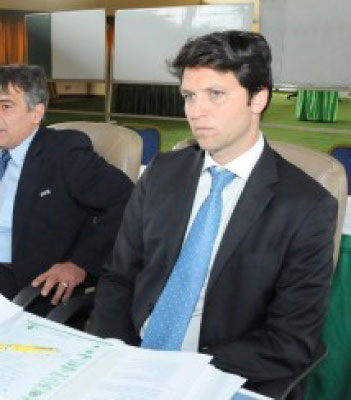 FIFA envoy Nicolas Valrico from the FIFA Legal Affairs Division who arrived in Banjul on Tuesday has said his visit to The Gambia is based on legal aspects.
"I am here to support the Gambia Football Association and give my inputs based on the experience we have at FIFA," he said, while speaking to reporters at the Ocean Bay Hotel in Cape Point.
He added that his purpose of visit is to finalise the GFA draft constitution for the next step.
"First we need to finalize this document and I hope it is done soon and I give my inputs on the legal side. At FIFA we experienced many constitutions and statues of associations and worked with different associations," he explained.
The Constitution of the GFA, which is still under scrutiny by the GFA Normalisation Committee, is out to pave the way for a legal executive committee that will look at the affairs in the future.
Asked how long it will take FIFA to have its input on the process they have witnessed and to get back to the stakeholders, on the way forward, he said FIFA is not the main interlocutor of the members.
"This is an internal matter that is going to be dealt with internally with the associations," he said.
"The purpose of FIFA is to have an organisation working well and have its constitution working, and we monitor and give our support."
He said he hoped the GFA would soon have a good and working constitution.
Referring to the expiring of the six months mandate given to the Normalisation Committee by FIFA, Mr Valtico said this is not part of the visit.
The Fifa legal officer is expected to return today.
The vice chairman of the GFA Normalisation Committee, Omar Sey, while speaking at the GFA secretariat yesterday afternoon following a meeting withFIFA, said they were working with FIFA to discus issues to be covered and to brief FIFA on their progress every time, which was done with Nicolas.
FIFA is going to look at what they have agreed on and would send back to all stakeholders to look at the constitution and if they have any questions they would clarify.
Sey said: "As soon as they finish they will hold a congress and adopt a document. If people think we are delaying they are making a mistake.
"With regard to the congress, what we discussed with the people here is an internal thing which we have discussed and agreed. We have agreed on certain issues and did not agree on others."
Now, he pointed out, they are briefing FIFA on those issues.
"We do not send anything to FIFA without sitting with them and discussing with the people and now we have done that," he said. "Now they are going to see whatever amendment they have done in the document and send it back here."
He also said: "We can't go to congress on September 30th unless we get a speedy response from the stakeholders. If the stakeholders wish that we go for congress then we will."
Asked if there is any possibility for congress to be held this month, the Normalisation Committee vice chair responded positively, saying: "This is depending on how much progress we have made. We don't give ourselves time; it depends on FIFA."
Read Other Articles In Article (Archive)