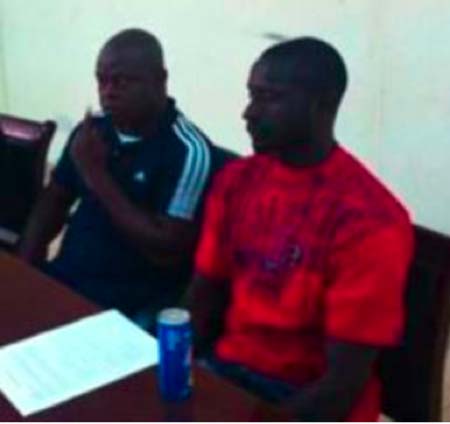 The Gambia Football Federation (GFF), in collaboration with FIFA, will on Saturday 16 May 2015 launch the FIFA Live Your Goals Concept at the Ebunjan Theatre opposite GFF House in Kanifing.
Speaking at a press briefing held yesterday at the GFF House in Kanifing, Ebrima Nyassi, Youth and Grassroots coordinator, recalled that in 2014 the GFF, in collaboration with FIFA, held the first girls festival in the history of Gambian football at the FIFA Goal project in Yundum.
He said the 2015 FIFA Live Your Goals will be staged in two folds, the first being the concept launching on 16 May 2015 at Ebunjan Theatre while the festival, which will be the second phase, will be held on 13 June 2015.
GFF has selected 5 elite women players to serve as role models for football excellence in terms of techniques, discipline, teamwork, respect and fair play, he explained, saying the selected girls are Sainey Sissoho of Abuko United, Veronic Malack and Penda Bah of Interior and Ajara Samba and Awa Tamba of Red Scorpions, who will henceforth serve as guidance, role models, solid images and ambassadors of women football.
The FIFA Live your Goals project is one of many courses FIFA organizes in collaboration with member associations in terms of women football development, he went on, saying GFF has made women football development a key priority in its development agenda.
The GFF will organise a technical training programme in November for women, he revealed.
Last year's festival brought together 240 girls, he further said, adding that "this year GFF wants to show the world we have many girls who can play and move football to higher heights in the country and for that reason players are selected from 1st and 2nd divisions (each club 30 participants), SOS 30 participants, GFF Executive and Women Football Executive to produce the other 30 participants."
All together 300 participants are targeted this year, he pointed out, saying: "All this is geared towards uplifting the development of women football in the country."
Ebrima N. Manneh, GFF technical director, for his part, said their target is to inspire young people to love the game and return to the game anytime they have the opportunity.
Football is in competition with other sports and they want it take precedence even in the lives of women, he highlighted, adding that they want to show the world the Gambia has elite players.
By the time the artificial turf in LRR is ready they would be planning to stage a girls festival there, he stated, saying the Live Your Goals project is "a total commitment to women football".
Women in football can achieve success as equally as their male counterparts in sports and they want to show evidence of that, TD Manneh said, adding that resources in time and energy "will be deployed in women football".
The Gambia is the only country that has a women referee panel together to officiate any qualification campaign for CAF and FIFA within the region, he remarked, saying the better they do, the more they will inspire other people.
"Refereeing is a very lucrative undertaking," he stated.
Sainabou Cham, Women Football Association representative, in her brief remarks, thanked GFF for the continued partnership with her association and also in their steps taken towards the development of women football in the country.
Jai, as she is widely referred to, added that the programme would go a long way in helping them as an association in their drive to promote and develop women football.
Ms Cham said they would continue to collaborate with the GFF's technical department to ensure the objective of the programme is met.
Victoria Roberts, Women Sub-Committee representative, described the festival as an important product for GFF, pointing out that women football is very close to the hearts of GFF executive.
She quoted FIFA president as saying "the future of world football is in the hands of women". Therefore, she said, GFF is "very serious" with the project.
Read Other Articles In Article (Archive)