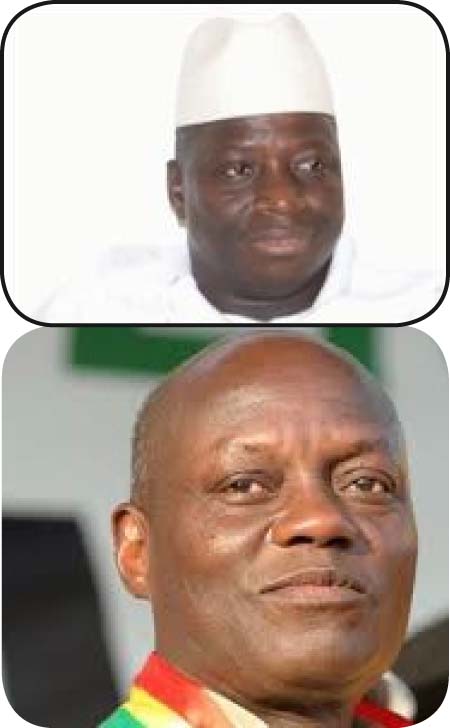 President Yahya Jammeh has "stated his desire to continue to work towards the realization of peace in Guinea Bissau, as well as supporting the peace and development process of the West African state", according to GRTS television news.
The Gambian leader on Tuesday received at State House in Banjul the visiting president-elect of Guinea Bissau, José Mario Vaz, who has since departed Banjul after a two-day visit as guest of President Jammeh.
Vaz arrived in The Gambia on Monday afternoon, and was received at Banjul international airport by vice president Isatou Njie Saidy.
He stayed at the five-star Coco Ocean Resort and Spa Hotel in Bijilo, used to lodge visiting foreign leaders.
According to news reports, this was Vaz's second visit overseas, after visiting Senegal first, following his election in May 2014.
A former mayor of the capital Bissau and former finance minister, Jose Mario Vaz, age 57, was candidate of Guinea-Bissau's main PAIGC party, and won more than 60 per cent of votes in the May 18 presidential run-off election held in the country.
His African Party for the Independence of Guinea and Cape Verde, PAIGC, has dominated politics in Guinea-Bissau since independence from Portugal in 1974.
Meanwhile, ECOWAS has welcomed "the successful conclusion of the transition process in Guinea Bissau which resulted in the smooth holding of the general elections in transparent and peaceful conditions".
The communiqués issued at the end of the latest ECOWAS summit held in Accra, Ghana, on Friday 30 May commended "Manuel Sérifo Nhamajo, interim president, the transitional government, the popular National Assembly, the electoral management bodies, the political parties and the entire people of Guinea Bissau for their self-sacrifice and determination in bringing the transitional process to a successful end".
"The Authority extends warm congratulations to H.E. José Mario Vaz, President-elect of the Republic of Guinea Bissau".
The communiqué added: "To forge national consensus and mobilize all the forces in the country towards the urgent post-electoral task in Guinea Bissau, the heads of state and government encourage the incoming administration to adopt an all-inclusive governance system.
"The Authority urges them to adopt and implement a comprehensive reform agenda, with the assistance of ECOWAS and all the international community, encompassing national dialogue and reconciliation, economic recovery, reform of state's institutions, and processes to sustain the stabilization and recovery efforts".
Read Other Articles In Article (Archive)