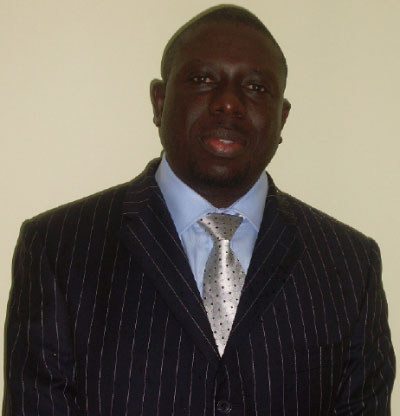 Board members and management of First International Bank (FIBank) on Monday met with the new Chief Executive Officer (CEO) of the Gambia Chambers of Commerce and Industry, GCCI.
Edrissa Mass Jobe Chairman FIBank and Managing Director Elton Oil Company said they came to congratulate the new CEO of GCCI, and to discuss pertinent issues of common concern.
He said there is a need for GCCI to re-focus on its primary functions of representing the interest of the Gambian business sector at home and abroad.
He used the opportunity to congratulate the new CEO on behalf of the bank management and Elton Oil Company Limited for his new appointment as CEO at GCCI.
"Over the years, I have observed the huge strides that GCCI has made in expanding, especially the partnership between the private and public sectors, and I commend the huge fund-raising efforts that have culminated in the construction of a new GCCI headquarters building befitting such a crucial organization," Jobe said.
He called on GCCI's new CEO to urgently address issues such as to encourage and ensure that its members are good tax-paying corporate citizens.
He also called for people to recognize that business would develop only if the macro socio-economic environment is healthy, and that the chamber must be pro-active in ensuring that business plays its most important role in the development agenda and that it respects its tax obligations.
He stressed that GCCI must be the representative of all the players in the private sector, be it small, medium and large.
"It is alarming to note that the GCCI has not organized an Annual General Meeting for over five years.
"Lack of concern for the provisions of our own charter does not augur well with both our membership and other stakeholders," he said.
Mr Jobe noted that the mandate of the current GCCI board has long expired, and hope that an AGM would be organised to select a board that is diverse and representative of all Gambian entrepreneurs, literate or not, further stating that GCCI must encourage its members to be responsible employers.
"It is only after ensuring that we are first meeting our obligations that we can become an effective advocate for the private sector, and it is only then that the Government will see the chamber as a credible partner in development," he said.
Jobe said GCCI must participate in the formulation of policies that would not only be the bedrock for creating an environment conducive to the development of the private sector, but also an environment where the best survive through innovation and hardwork.  
In response Almami Taal, the new CEO of GCCI, thanked the board members and management of FIBank for the opportunity of meeting with him.
"The discussion will help the transformation process in which GCCI is going through," he said.
Taal promised that all what were discussed will be look into by his office, and if implemented will be for the betterment of his institution and its partners".
Emeka Abone FIBank Group chairman for his part told CEO Taal to take GCCI into the next level because, in his own words, "you are in a better position to take GCCI into higher heights."
Sir Moses Agoh, director FIBank Gambia said, being a lawyer and a former judge, those two professions alone are an added advantage for the new CEO of GCCI.
Read Other Articles In Article (Archive)