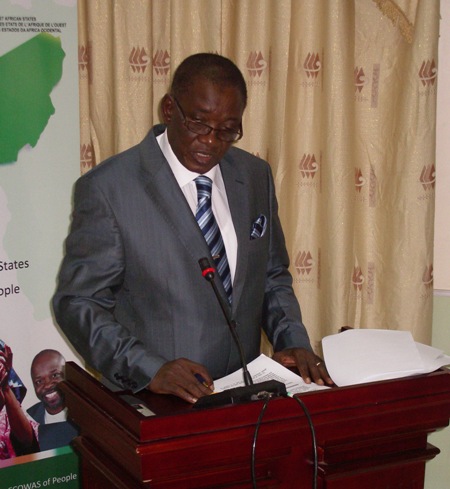 The ECOWAS Commission has dismissed as incorrect what it called a widespread misconception that the current negotiations on the Economic Partnership Agreement (EPA) between ACP countries and the European Union was forced upon ACP countries, including West Africa, by the European Union.
The commission stressed that this was a misconception because all West African countries except two, Cape Verde and Liberia, are members of the World Trade Organization (WTO).
This clarification by the commission was made by Mohammed B. Daramy, ECOWAS Commissioner for Trade, Customs, Industry and Free Movement.
Daramy was speaking at the opening of a two-day sensitization workshop for journalists on the EPA, which is currently under way in Accra, Ghana.
He said one of the rules of the WTO states that any member of the WTO cannot discriminate against any other member or region in the grant of trade concessions.
The workshop was part of a series of stakeholder sensitization workshops organized by the commission on the ongoing negotiations on the EPA between West Africa and the European Union, which will define the economic relations between the two regions over the next 25 years.
The impending EPA, a reciprocal trade agreement, is expected to be WTO compliant and will replace the previous non-reciprocal agreement between them.
"Under all the previous trade agreements namely, Yaounde, Lome and Cotonou, the European Union had discriminated against other developing countries in favour of ACP states, including West Africa," he said, adding that the current negotiations were designed to remove this element of discrimination by moving from non-reciprocity to reciprocity in trade relations between the EU and all ACP countries.
According to Commissioner Daramy, right from the inception of the negotiations with the EU, "development-oriented EPAs have always been envisaged in our EPA negotiations".
"It was our goal that such an agreement will enable us achieve a well developed private sector, increased employment, and improved access to factors of production, as well as secure improved and beneficial market access and ultimately give our region, the much desired sustainable economic growth," Daramy stated.
The attainment of the above, he added, based on the antecedent and success of other regions in the world, will lead to enhanced regional production, higher levels of supply and trading capacities of member states, as well as strengthen their trade and investment policies, "thus our regions capacity to attract investment".
Commenting on some of the challenges being currently faced by the region, as it approaches the concluding phase of the EPA negotiations, Daramy highlighted the attainment of a concrete position on the sources of funding the EPA development programmes initially estimated at 9.525 billion Euros.
He expressed hope that at the "mis-reporting and misguided representations of the positions of our regional EPA negotiators will be put to rest".
Read Other Articles In Article (Archive)