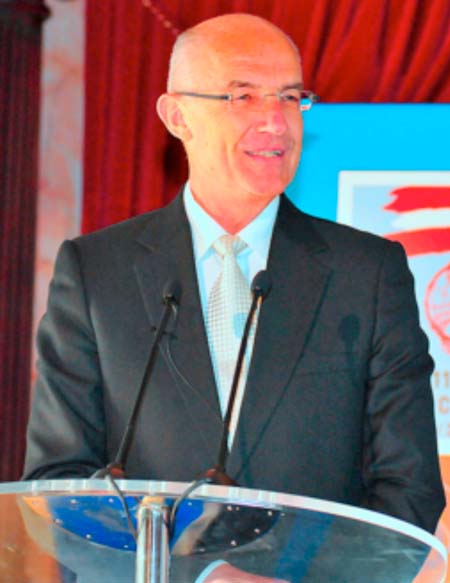 The International Basketball Federation (FIBA) Sports Director Lubomir Kotlema is expected to arrive in The Gambia on Thursday 28 April 2015 for a 2-day official visit as guest of the Gambia Basketball Association (GBA).
According to a press release issued by the Gambia Basketball Federation (GBA), Mr Kotlema's mission is to conduct a review and assessment of the current state of affairs of basketball in The Gambia.
Mr Kotlema, who doubles as advisor to FIBA secretary general, is scheduled to meet all stakeholders in Gambian sport, such as the GBA executive members, Gambia National Olympic Committee (GNOC), the National Sports Council (NSC), basketball coaches, referees and players.
"It is expected that after his mission, the Gambia Basketball Association (GBA) will be guided by FIBA in terms of development of the game in the country. His mission will also help FIBA in formulating strategies for the development and support of National Federations," the GBA press release states.
To wrap up his visit, Mr Lubomir Kotleba will grace a basketball game on Thursday at the Independence Stadium in Bakau before facing the press on Friday 29 April 2016 at the GNOC office at 11.00am.
Who is Mr Lubomir Kotleba?
The following is a summary of Mr Kotleba`s basketball career:
1960 - 1968 - a player
1968 - 1970 - a coach
1970 - 1975 - a team manager
1963 - 1975 – a referee on national level
1975 - 1989 - an international referee (FIBA)
Mr Kotleba became a Central Board member of Slovak Basketball Federation in 1972, and since 1981 he has been a Central Board member of Czechoslovak Basketball Federation.
Since 1989 to date Mr Kotleba has been a FIBA full-time staff (FIBA Sports Director).
Mr Kotleba officiated 4015 games, three Olympic Games (two finals), five World Championships, twelve European Championships, six championships of other continents and ten European Club Competitions finals.
As a commissioner he officiated five Olympic Games, twenty two World Championships, twenty one European Championships and about 100 European Club Competitions games.
Besides as a FIBA lecturer Mr Kotleba participated in 96 referee clinics in 57 countries of five continents.
Read Other Articles In Article (Archive)