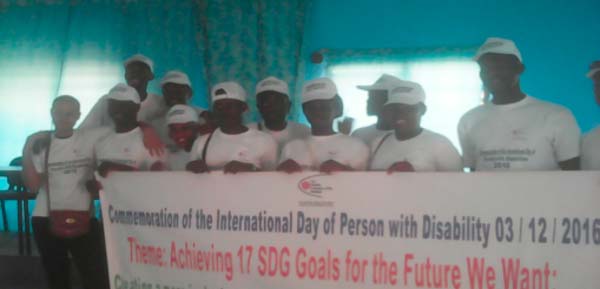 The Gambia Federation for the Disabled (GFD) yesterday held a daylong commemoration of the International Day of Persons with Disability known as World Disability Day, annually celebrated on 3 December since 1992.

The day is promulgated by the United Nations to encourage a better understanding of people affected by disability, and to make people more aware of the right, dignity, and welfare of persons with disabilities.
This year's theme was 'Achieving 17 SDG Goals for the future we want: creating a more inclusive and equitable world for persons with disabilities'.
Sainey Camara, disability rehabilitation technician at the Department of Social Welfare, on behalf of the director of the department, said the commemoration offered the opportunity to promote awareness about people with disabilities as well as encourage them by implementing a lot of assistance in their real life to enhance their ways of life and remove the social stigma towards them.
For him, the purpose of the day was to improve the understandings of the people worldwide towards those with disability.
With the development of the Integrated National Disability Policy, The Gambia government is committed to the promotion of the rights and welfare of persons with disabilities.
Also, the ratification of the United Nations Convention on the Rights of Persons with Disabilities, and the drafting of the Bill for Persons with Disabilities are significant strides by the government towards the achievement of Agenda 2030.
Read Other Articles In Article (Archive)