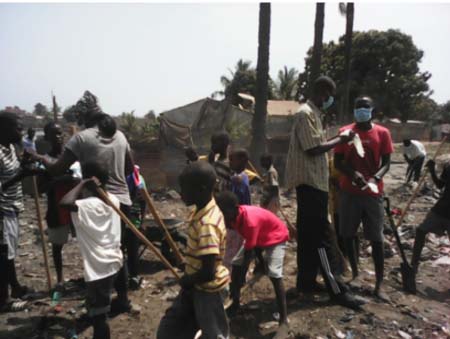 Fortress of Development for Africa (FDA), a voluntary youth organization, recently held a cleansing exercise at an illegal dumpsite in Tallinding Farokono to mark the World Environment Day.
The exercise brought together youths from various organizations including FDA to mark the World Environment Day on the theme "Seven billion dreams. One planet, Consume with care".
Speaking during the exercise, Ahmed A. Salami, FDA coordinator, said they also carried out the exercise to show by example the essence of cleaning the environment and to let the community know that it is everyone's duty to participate in keeping the environment clean.
They were also there to mark the World Environment Day celebration and to let the people know that whether they are Gambians or non-Gambians as long as they are living in the country, they are duty bound to clean the environment.
He said they have noticed that illegal dumpsites are created by waste generated from nearby houses in the community.
He said about 70 per cent of the waste in the illegal dumpsite was plastic substances in areas very close to the coastal area, linking the River Gambia.
He added that they also undertook the exercise to help inhabitants of area find solution to the problem of dumpsites in the community, he said.
He thanked Gamtel/Gamcel, Standard Chartered Bank and First Atlantic Seafood for their support.
Lamin B. Ceesay, public relations officer of KMC Youth, said they had conducted a little survey in the community to know the problem of the area, as it is not a designated dumpsite.
Pa Omar Jarju, representing KMC, said as an institution they are very happy with the organization because its members have shown a very good example trying to safeguard the lives of the people, which is what is expected of every Gambian.
He said the place is an illegal dumpsite created by the community and the organization had done "very well" in cleaning it, which should be emulated by the community. 
Read Other Articles In Article (Archive)