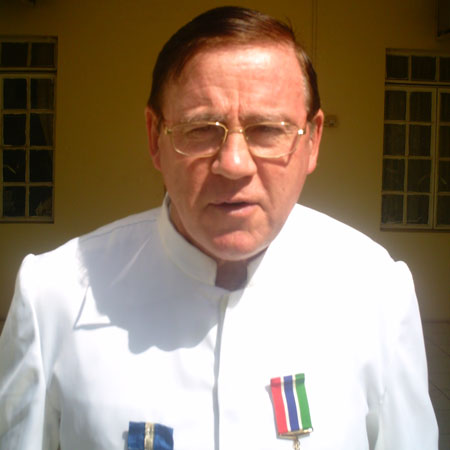 The legendary former Principal of Saint Augustine's High School, Father Joseph Gough, the Irish priest who perhaps can be credited with single handedly contributing to the building of the very fabric of Gambia's sporting hey days in the 70s up to the 90s, and continued showing his love for The Gambia through the Gough Foundation charity, is going back for good.
A press statement issued by the Gough Foundation over the weekend bade farewell to The Gambia, on behalf Father Gough, stating that the old man's health requires extensive stay at his home country, Ireland, where his treatment is more easily accessible than here in The Gambia, where he served immensely for the last 40 years.
Father Gough came to The Gambia in 1972, teaching at Saint Augustine's where he rose to become principal until 1983. Whilst at Saints, Gough laid the golden egg that hatched to produce the finest Gambian sportsmen and women ever.
Through his handiwork, Saints dominated inter-schools competitions in all disciplines, thus inspiring rival schools to invest in sports to catch up. They never actually matched Saints.
The result was a renaissance in Gambian sports. Indeed, to this day, few people doubt the glorious heights the country attained in sports in those days would have been possible without Gough's products from Saints, who went onto be leading lights in Gambian football, basketball and other leagues.
The likes of Bai Malleh Wadda, undoubtedly one of the most versatile and outstanding athletes in Gambian sports, is among scores and scores of others who passed through Gough's moulding and tutelage.
"Father Gough made accomplished athletes and sports leaders. He is perhaps the only man who made me all what I am. He is everything,'' said Tijan Massaneh Ceesay, a prominent former school boy sports journalist and coach, who recently authored a book on Gambian football. Young Tijan's attachment to Father epitomizes the unrivaled passion Gough has in opening up talents of young people.
Even when he completed his tour of duty in 1983, Father Gough never stop loving The Gambia, and in the early 2000s he set up the Father Gough Foundation, which donated millions of dalasi to charities, in health, education and sports activities in The Gambia. The multi-million dalasi Manjai Sports Complex is one of the landmark contributions of the Gough Foundation in this country.
In return, Father Gough said he owes Gambians and their leaders a lot in gratitude for the recognition, respect and hospitality accorded to him.
President Yahya Jammeh, who grew up attending Saint Augustines' arch-rivals, Gambia High School, needs no introduction to Father Gough having known his reputation as the miracle man next door.
He readily receives Gough at State House any time the old man desires to see him, and decorated Father Gough with the ORG, as well as provided him a villa to live in at the AU village.
"I'm most grateful to him and his government and the Gambian people. I may be going, but my foundation shall remain to continue supporting the many projects we embarked and might embark on,'' Father Gough said in the farewell statement, which saddened most Gambians here since Friday.
Pap Saine veteran Gambian sports journalist who covered Father Gough's times at Saints said: "Father Gough's achievement in opening up academic and sporting talents of young people was marvelous and simply terrific. I have never known a man with a better vision. Gough is great.''
Read Other Articles In Article (Archive)