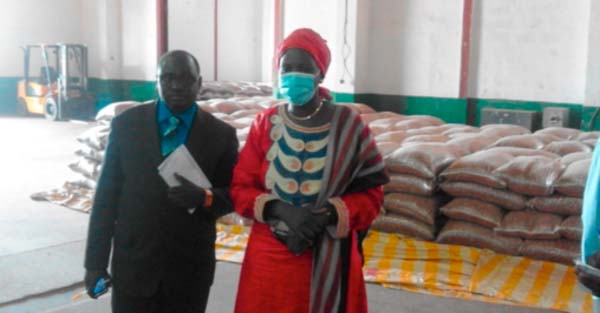 National environment Agency Executive Director Madam Ndey Sering Bakurin recently embarked on factory inspection with officials of the Department of Labour, Ministry of Health, Ministry of Works and some inspection staff at the NEA.
The factories visited are Karang Factory, Manufacturing Mattress, the Best Water Factory, Manufacturing Waters Bottle, Monthtara Holding Factoring Burning Bricks Block, and National Food Security Process Making Corporation Manufacturing Oil.
The aim of her visit to these factories is re-emphasize the safety of workers as well as environmental protection and product quality.
Speaking during the inspection, Madam Bakurin said the National Factories Board is mandated among others to approve licence and provide guideline for operation in an effort to minimize factory accident and promote all-time safety of workers.
It is also mandated to share knowledge, monitor and promote occupational and health safety of the factory workers and surrounding environment.
She said that in the absence of effective regulation, industry processing can have devastating impact on both environment and human health, adding that it is therefore imperative to take stock of experience and put in place strategies to avert mishaps.
According to her, in 2015 they visited Gam Baker, Banjul Bureau and also Banjul Oxygen and in that visit they realised that some of the factories had been improved whilst some needed to be improved.
"This year also some have improved and some needed to be improved this is why the Department of Labour and the National Environment Agency consulted with them [the factories visited] so that they would be improved," she said.
She said it is part of Government's policy under the Factory Board and the Factories Act that they should be going round to see or know what is happening in the factories.
Madam Bakurin advised the factories owners in the country to continually improve their factories and ensure they clean and tidy up their facilities.
They should also provide protective gears and working equipment for the workers to be using during working hours and let every staff of the factories obey the rules and regulation in their factories.
She also called for a better lightening system to be maintained in factories.
Mr Nyama Barrow, commissioner of labour, also stated that visiting the factories is very important because it is part of the work and it is all about commitment to work and to ensuring that lives and property are protected.
Among the speakers during the routine check of factory standard was Mariatou Dumbuya Jobarteh from the Department of Health.
Read Other Articles In Article (Archive)