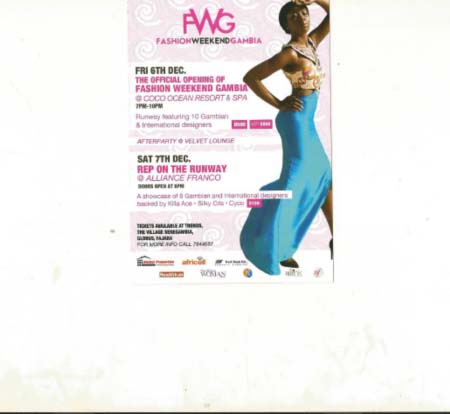 Organisers of Fashion Weekend Gambia are busy putting finishing touches to the initiative of staging the event, Point Entertainment and Lifestyle has learned.
The official opening of the fashion weekend will take place at the CoCo Ocean Resort and Spa featuring 10 Gambian and International designers on stage.
The same show will continue at the Alliance Francaise to showcase 8 Gambian and international designers backed by Killa Ace, Silky Cris and other top Gambian artistes.
Speaking in an interview with Point Entertainment and Lifestyle on Wednesday at her office on Kairaba Avenue, Lena Grey-Johnson, co-founder of Fashion Weekend Gambia, said Fashion Weekend Gambia is spearheaded by women within the field of fashion and arts, who wish to create a platform that aspires to bring designers and creative artists together to showcase creativity with the ambition to introduce a more vibrant and promising fashion industry to The Gambia.
"As young women, we see the impact that fashion has had on globalization and shaping the trends of the future," she said.
"This event will draw publicity to the spirit of entrepreneurship with our women and youth.
"Now in our second year, we will be hosting yet another weekend of fashion events on December 6 and 7 at Coco Ocean and Alliance Francaise respectively."
Lena went on: "This year we are showcasing 12 of Gambia's best designers, such as Phuzion by Margaux Ndure and Tara by Fatou Drammeh, to name a few."
She added that this year's initiative will help to raise awareness about child sex tourism.
The commercial sexual exploitation of children is now a growing issue to which The Gambia is not immune. Hence, Lena said: "It is important that we realize and accept that the practice of child sex tourism can affect the economic, social, and moral integrity of our country."
EndFragment
Read Other Articles In Article (Archive)