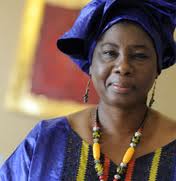 Hello and a warm welcome to yet another edition of She-She-She, your weekly column that deals with the issue of women and girls within the country and beyond.
It is always exciting to talk about women and girls, their achievements, challenges and the way forward in tackling those challenges.
Have you ever heard of One Billion Rising Revolution, a world of equality, dignity and freedom for all women and girls, a revolution, a change with dignity?
Yes, it is a revolution of change for women and girls suffering from all forms of violence.
It is a revolution to celebrate women and girls, their achievements, challenges, as well as putting an end to their sufferings and it is a revolution of justice for women and girls.
GAMCOTRAP on Monday briefed the media on the upcoming One Billion Rising Revolution 2015, held at their head office in Kanifing.
One Billion Rising Revolution is about early marriage, children's rights, FGM and any other form of violence against women and girls.
Dr Isatou Touray, Executive Director of GAMCOTRAP and V-Day Coordinator for West Africa, issued a powerful statement at the briefing, and it reads:
"We rise, we dance, we demand for justice but now we want change in perceptions and attitudes to dismantle patriarchy and change institutions to take responsibility to end gender-based violence against women.
"The women are daughters, wives, mothers, aunts, sisters, nieces, grandmothers, neighbours, and friends; so we all have responsibilities to protect girls and women from Gender-based Violence.
"We have institutions and public servants responsible for the implementation of national laws, policies supported by NGOs and civil society organizations through advocacy, to spread the messages and raise consciousness through grassroots mobilization, reaching out to schools, young people and the larger public through the media.
"As leaders in institutions, communities and households we all have responsibilities to protect women and girls from all forms of harmful traditional practices, be it female genital mutilation, early and forced marriage, and to break the silence over sexual abuse in the home, school, office or any other public place.
"It has been a most amazing two years of the one Billion Rising Revolution, Rising for Justice Campaign. Through our efforts we mobilized, engaged, awakened and joined people worldwide to end violence against women and girls.
"We made violence against women a global human rights issue not relegated to country, tribe, class or religion. We reveal it as a patriarchal mandate, present in every culture of the world.
"In our justice campaign we made visible, volatile and impacting connections between violence against women and economic, environmental, racial, and gender injustice.
"We found new and hopefully lasting coalitions between existing groups and individuals not only within the women's movement, but also between peoples' movements covering diverse sectors.
"There is nothing more powerful than global solidarity as it makes all of us safer in our outspokenness; braver in what we feel willing to do.
"When we see women rise, it inspires all of us to go further and we know the eyes of the world are on us. Through One Billion Rising, laws were created, passed and enforced. Leaders were born, politicians were held accountable, major and invisible injustices were highlighted and proven undeniable.
"Our cries for each of our particular justices rose and merged in a sea of cries and demands, creating a new collage, a new collective vision and changing landscape of what a just world might look like for women and girls.
"This is the revolution we are resolved to achieve for all. Everyone faces obstacles, attacks, doubt, distrust, questions, lack of resources, impossible odds, family needs and went beyond where even we thought we could go. So we have much to celebrate.
"Through trauma, cruelty, shame, oppression, violence, rape, exclusion, the body of human species has been hurt, wounded, and we have been forced to flee our bodies in the name of culture and tradition.
"What we also did was to show the power of art through songs and dance, merging them with activism to bring attention to the plight of women and girls.
"Dance is one of the most powerful forces on the earth, and we have only just begun to tap into where it can take us.
"The changing songs by 'Sangalangba' Kafo in Soma, Amina, and other artists participating in the last One Billion Rising Revolution, are examples of efforts to change the situation of women and girls against all forms of violence.
"Also individuals have effected changes in their silent corners, making a difference in the lives of the vulnerable.
"Dancing allows us to come back into our bodies as individuals and groups, and as a world; it connects our feet to the earth and inspires us to move to her rhythms.
"It allows us to go further, to include everyone, to tap into a positive change and poetic energy which is inviting us to take the lid off the patriarchal container releasing more of our wisdom, our self love, our sexuality, our compassion, and fierceness.
"Dancing is joyous, contagious; it gives freedom and beyond control. We dance and make the change we want for women and girls to be free from female genital mutilation, early and forced marriage, sexual abuse and coercion and other forms of violence.
"We appreciate the men who stand with our rising and join us to make The Gambia a better place to live in. They understand that we are their sisters, mothers, wives and equals in everything and they support this feminine energy.
"We must create the change in our communities and societies. One Billion Rising Revolution is an escalation of our campaign - One Billion Rising and One Billion Rising for Justice. We've danced. We've demanded justice. Now we are demanding changes.
"What a brave, powerful, sensitive and touching statement and as we prepare for One Billion Rising 2015, let us all reflect back on women and girls and keep on pushing their agenda to the world." 
Read Other Articles In Article (Archive)