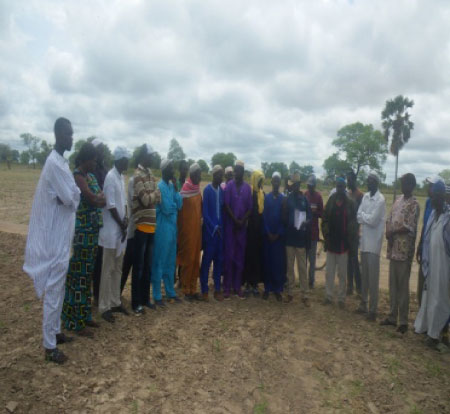 Farmers in various parts of the country have called on rapid intervention of the West Africa Agricultural Productivity Programmes (WAAPP) to boost their production.
The appeals were made to WAAPP officials who were on the ground to dialogue with the farmers as well as to see what additional support they need.
WAAPP, an innovation platform, was set up to increase crop production and productivity of farmers nationwide, being coordinated by the National Agricultural Research Institute (NARI) who are the implementing partners of WAAPP activities at the farmers level.
The countrywide tour which took WAAPP officials to URR also sought to assess the level of the activities of the farmers as well as the distributed seeds which have reached some farmers in the country.
The WAAPP delegation also discussed with great concern, in respect of the best practices to be used towards the increase of their farm yield.
Farmers also used the opportunity to thank the management of the WAAPP through the project coordinating unit for providing them with seeds which was a major concern to the whole country.
Most farmers met during the tour told the WAAPP officials that getting seeds has been one of their big challenges.
The farmers also went further to say that the best way of helping farmers is not only to provide seeds for them but also to provide inputs such as fertilizer, and farming tools.
Some farmers also applauded WAAPP for the recent distribution of 180metric tonnes of seeds of various varieties ranging from groundnut to maize and rice.
They also assured the WAAPP officials that with enough farming implements provided for them, they will surely grow more seeds.
Speaking during the tour in Lower River Region, the principal agricultural officer, Lang Kinteh, said the tour was held to assess the innovation platform for technology adoption and commodities value-chain programmes set up through WAAPP.
He added that in LRR they have eleven platforms on three major crops, namely rice, groundnut and maize.
He added that following the establishment of a farm for the platform, there was an invitation for farmers' demonstration all over the region, and issues of concern were also discussed.
The country project coordinator of WAAPP, Sheikh Tijan Sosseh, gave a recap on WAAPP activity, saying the project is in thirteen countries in West Africa.
He added that the ultimate objective of WAAPP is to increase or improve agricultural production and productivity, through dissemination of technology.
"WAAPP's embarking on this nationwide tour in meeting farmers at their various farms, is part of one key activities of the WAAPP, which is the innovation platform," he said.
He said that the activity is all about disseminating recommended practices as far as different crop production practices are concerned to farmers.
Read Other Articles In Article (Archive)