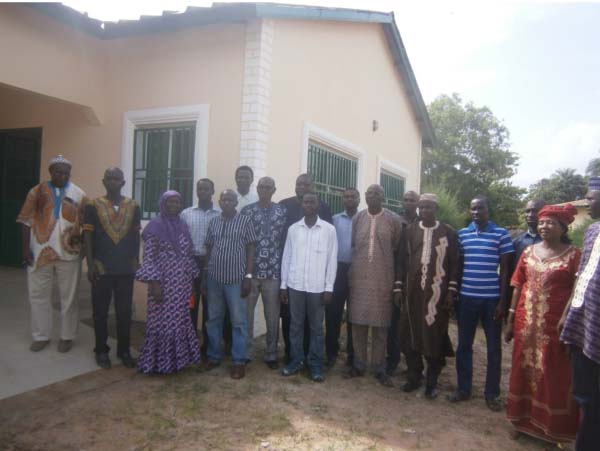 The National Coordinating Organisation for Farmer Association in The Gambia (NACOFAG) has played host to a two-day strategic plan development workshop for family faming in The Gambia.
Held on 12 and 13 August, the forum was organised in collaboration with a Dakar-based organisation called CNCR/FONG and attended by representatives from various farmer organisations and institutions.  It was held at the National Agricultural Research Institute, Brikama.
Speaking on the occasion, Alieu Sowe, national coordinator of NACOFA, said the aim of the forum was to develop a proposal and strategic plan for the development of the family farm system in The Gambia.
He said that during the forum, stakeholders and partners would share views on the proposal for the realisation of the objectives of family farming.
Declaring the forum open, permanent secretary 2, Ministry of Agriculture, Sheriffo Bojang, said The Gambia is in the process of developing a concept of family farming and the government has shown the political will to support the concept.
President of NACOFAG, Mohammed Finkey, said the development of a proposal on the promotion and realisation of family farming is due to the changes to the peasant approach to farming.
He said that during a forum held in Brussels in March 2014 by four farmer federations from Mali, Guinea, Burkina Faso and Senegal, a declaration was approved for the expansion and development of family farming based on the achievements and experiences of family farmers.
The declaration also has a recommendation for the establishment of a regional and international framework for cooperation and exchanges of knowledge on various types of family farms.
Mr Finkey said it is in view of these recommendations that the Dakar-based CNCR sought and obtained financial support from a foundation in France to identify relevant actions and formulate a project for a global support system and closeness of family farms.
The president of NACOFAG explained briefly about NACOFAG and their role is advocacy and lobbying and to develop partnership with farmer federations.
Also speaking, Marius Dia, a member of the delegation from CNCR, said the meeting is very important in the sense that it would help farmer organisations to come together and carve a way forward.
Fatou Samba-Njie, vice president of NACOFAG, said the involvement and participation of women in family farming is key to the success of the venture.
Read Other Articles In Article (Archive)